Morning by Morning, January 7 - Call Out to God and Listen

Good morning, Lord Jesus. I seek Your face and call on Your name and embrace Your Spirit. ...

"Call on Me and I will answer you, and will tell you great and hidden things that you have not known" (Jeremiah 33:3).

You invite us to call out to You; You encourage us to listen to You. You create us for relationship with You. And it's a living, vibrant relationship. You appeal to us read Your written Word; and at the same time, You draw us to hear Your living word.

My Father, God, I am calling out to You. I am seeking You; I am listening for You, as I wait in the silence of surrender before You. ...

It's seems I hear You saying in my heart: "Listen for My voice and know My heart. Sense My leading because you recognize My Spirit. I lead you in the paths of righteousness. I teach you the ways of truth. I separate your thoughts from the mind of your culture and lead you in the ways of My kingdom and not in the ways of your world. My Word reveals My will; and My Spirit expresses My Word and My will to your heart and your mind throughout the moments of your day if you seek Me and call out to Me with a humble heart that's truly willing to follow Me. Many say this is their heart, but this is rarely true. Ask Me for a true heart and I will give you a heart that truly seeks Me and truly desires to follow Me."

Yes, Lord. I ask You for a true heart, a heart that truly seeks You and truly desires to follow You. I know from Your Word that "the heart is deceitful above all things, and desperately wicked; who can know it?" (Jeremiah 17:9 NKJV) And I also know from Your Word that You "search the heart, (and) test the mind, even to give to every man according to his ways, according to the fruit of his doings" (Jeremiah 17:10)

So, as David cried out to You as he called upon Your name, "Create in me a clean heart, O God, and renew a right spirit within me. Cast me not away from Thy presence; and take not Thy Holy Spirit from me. Restore unto me the joy of Thy salvation; and uphold me with Thy free Spirit" (Psalm 51:10-12 KJV).

Don't let me one who says they seek You and want to hear You, only to seek what they want to see and hear what they want to hear. I pray for a heart that truly desires the truth. "Behold, You desire truth in the inward parts, and in the hidden part You will make me to know wisdom" (Psalm 51:6 NKJV).

Change my heart, O God; make it ever true (Ezekiel 36:26). Put Your thoughts in my mind and Your desires in my heart, so that I seek what You seek and desire what You desire (Romans 12:2). Give me the grace to more fully embrace the righteousness of God within me by the power of Your Spirit who abides within me (2 Corinthians 5:21). Make me more like You each day, as I read Your Word and hear Your word and embrace the One who is the Word within me (John 1:14). In Jesus' name I pray. Amen.

Be encouraged today! In the Love of Jesus, Tommy Hays
M
ay you call out to God and hear His voice in your heart to sense the leading of His Spirit in your life, making you more like Him each day,
in Jesus' name.
Please
pray the same for me. God bless you, my friend!
Friends, you may also enjoy sharing in the journey of faith I've sought to live, through my two books,
Free to Be Like Jesus!
and
Morning by Morning
available through our ministry: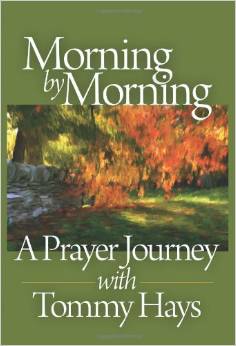 Tommy Hays | Messiah Ministries
Healing from the Inside Out
Pastoral Director | Rapha God Ministries
4 Dominion Drive, Building 1
San Antonio, Texas 78257
Please share this word to encourage a friend!