Morning by Morning, April 15 - Free from Fear in the Grip of God

Good morning, Lord Jesus. Your name is the name above every name (Philippians 2:9). Let Your name be above every moment of my day. ...

"But you, Israel, My servant, Jacob, whom I have chosen, the offspring of Abraham, My friend; you whom I took from the ends of the earth, and called from its farthest corners, saying to you, 'You are My servant, I have chosen you and not cast you off;' do not fear, for I am with you, do not be afraid, for I am your God; I will strengthen you, I will help you, I will uphold you with My victorious right hand.... For I, the Lord your God, hold your right hand; it is I who say to you, 'Do not fear, I will help you'" (Isaiah 41:8-13).

Through Christ, I'm a spiritual descendant of Abraham, with all the blessings of Abraham (Galatians 3:6-9). And through Christ, I'm a child of God, with all the blessings of a child of God -- "for in Christ Jesus (we) are all children of God through faith" (Galatians 3:26).

One of Your greatest blessings for the descendants of Abraham, for the children of God is the blessing of freedom from fear. You know the struggles we have and the battles we face. You know the uncertainties and worries we encounter in the unsettledness of our journey as strangers in a foreign land through the challenges of this broken and fallen world. But You constantly remind us, "You are not alone. I am with you. Fear not. Hold on to Me and know that I am always holding on to you."

O Lord, take me by Your hand and lead me by my heart. Remind me who I am and help me always remember who You are. You're my Father, and I'm Your child. You've chosen me and called me. You strengthen me and encourage me. And You empower me to overcome every worry and fear in Your perfect love (1 John 4:18).

In the grip of Your hand, I'm free from fear. Your mighty right hand is victorious! And so am I in You. Thank You for this blessing. Thank You for Your words of spirit and life and truth You're speaking into my spirit today (John 6:63). In Jesus' name I pray. Amen.


Be encouraged today! In the Love of Jesus, Tommy Hays
I pray you will rest securely in the grip of God, free from fear and filled with His Spirit and perfect love to overcome every worry you may be facing, in Jesus' name.
Please
pray the same for me. God bless you, my friend!
Please join us and spread the word for our
2016 Inner Healing Conference of Rapha God Ministrieson April 22-23 in San Antonio
at Oak Hills Church, North Central Campus by the Airport
From Brokenness to Breakthrough!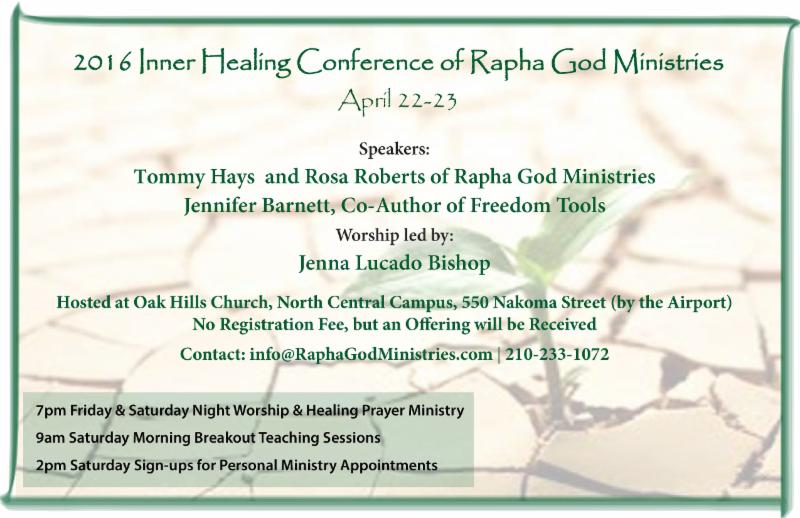 I'm excited to be preaching a series on Inner Healing at
The Vineyard Church of San Antonio. I'll be preaching thenext two Sunday mornings
at 10:30. Please keep us in your prayers!
www.vineyardsa.org
God bless you!
Tommy Hays | Messiah Ministries
Healing from the Inside Out
Pastoral Director | Rapha God Ministries
4 Dominion Drive, Building 1
San Antonio, Texas 78257
Please share this word to encourage a friend!