Morning by Morning, April 19 "Rain Down Righteousness"

Good morning, Lord Jesus. At the beginning of my day, I want to begin with You -- embraced by the Father, centered in Christ, and filled with the Holy Spirit. ...

"Shower, O heavens, from above, and let the skies rain down righteousness; let the earth open, that salvation may spring up, and let it cause righteousness to spurt up also; I the Lord have created" (Isaiah 45:8).

We've had heavy rains for a few days. Rains can be destructive or rains can be a blessing -- and sometimes rains can be both. Rains can flood our lives, but also replenish our land. Sometimes the rains of our physical realm speak of truths taking place in our spiritual realm.

Rain down righteousness, O Lord! Cleanse our hearts and our land by the washing of the water of Your Word (Ephesians 5:26). Renew us and replenish us, revive us and awaken us, as You wash away the clutter from our souls (Ephesians 5:14).

Come, Holy Spirit. Rain down righteousness in our land -- may we be set right with God, right with each other, and right within ourselves. And let the fullness our salvation spring up in us and in our land. "If My people who are called by My name humble themselves, pray, seek My face, and turn from their wicked ways, then I will hear from heaven, and will forgive their sin and heal their land" (2 Chronicles 7:14). In Jesus' name I pray. Amen.


Be encouraged today! In the Love of Jesus, Tommy Hays
I pray the fullness of salvation will spring up in your heart and in our land, as the Lord rains down His righteousness upon you and awakens revival within you, in Jesus' name.
Please
pray the same for me. God bless you, my friend!
From Brokenness to Breakthrough!
Please join us and spread the word for our
2016 Inner Healing Conference of Rapha God Ministrieson April 22-23 in San Antonio
at Oak Hills Church, North Central Campus by the Airport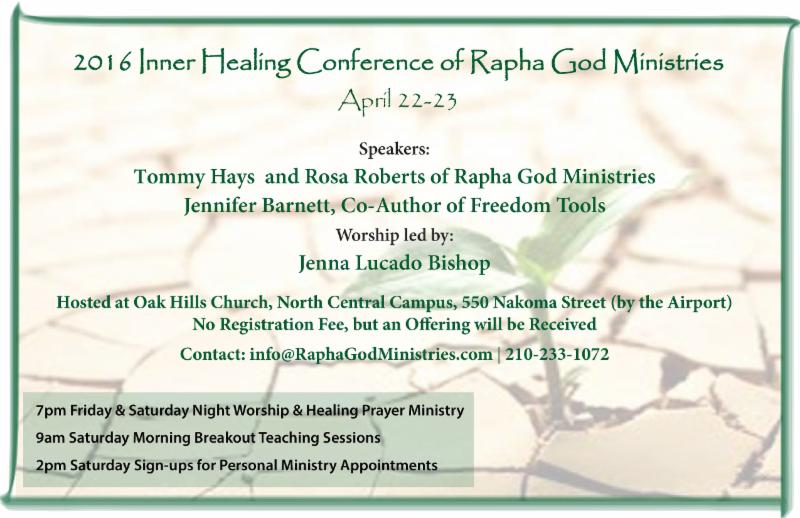 Tommy Hays | Messiah Ministries
Healing from the Inside Out
Pastoral Director | Rapha God Ministries
4 Dominion Drive, Building 1
San Antonio, Texas 78257
Please share this word to encourage a friend!