Morning by Morning, January 20 - Hear from Heaven and Heal Our Land

Good morning, Lord Jesus. Let Your name be the first word from my mouth this morning and let my relationship with You -- God the Father, God the Son, God the Holy Spirit -- have the first place in my life. ...

"If My people who are called by My name will humble themselves, and pray and seek My face, and turn from their wicked ways, then I will hear from heaven, and will forgive their sin and heal their land" (2 Chronicles 7:14 NKJ).

To change the heart of our nation, we have to choose to humble ourselves and allow You to change our hearts. As we seek You in prayer, as we turn to You in repentance, as we embrace You in faith, You hear and Your forgive and You heal.

As You change us, You awaken us and revive us. You remind us of Your calling and Your destiny for us as Your people who are called by Your name here in our land. May we be found faithful in our generation to accomplish all You've intended in Your heart through our hearts that turn to You in prayer, repentance, and faith. We make our appeal to heaven in prayer. And You answer from heaven in power.

O Lord, my God -- Father, Son, and Holy Spirit -- hear from heaven and heal our land. May the honor and glory of Your name be great again in our hearts and in our land. "Oh, that You would rend the heavens! That You would come down! That the mountains might shake at Your presence -- as fire burns brushwood, as fire cause water to boil -- to make Your name known to Your adversaries, that the nations may tremble at Your presence!" (Isaiah 64:1-2 NKJ) In Jesus' name I pray. Amen.

Be encouraged today! In the Love of Jesus, Tommy Hays
M
ay you be moved in the unity of God's Spirit with all who are called by His name in prayer, repentance, and faith to turn to Him in your heart, that the Lord may hear from heaven and heal our land, in Jesus' name. Please pray the same for me as I join with you in agreement in that prayer (Matthew 18:19; Psalm 133; John 17:18).
God bless you, my friend!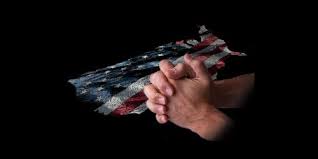 My New Prayer Devotional Book
Begin 2017 in a Journey to Deeper Intimacy with God
Friends, I'm excited that we
just published my new book Morning by Morning, Second Edition
that is now available through Amazon and Kindle. It's a 365 Day Devotional with a selection of many of my favorite devotionals from the last several years of my prayer journey. Thank you for joining with me on this journey! And I pray these simple morning prayers are a great blessing and encouragement to you to start your day embraced by the love of our Father, centered in Jesus Christ, and filled with the Holy Spirit.
Tommy Hays | Messiah Ministries
Healing from the Inside Out
Pastoral Director | Rapha God Ministries
4 Dominion Drive, Building 1
San Antonio, Texas 78257
Please share this word to encourage a friend!