Morning by Morning, May 25 - "In Due Time" -- Travailing, Prevailing Prayer

Good morning, Lord Jesus. Come walk with me and talk with me, here in the cool of the morning and the beginning of my day, I pray. ...

"In due time Hannah conceived and bore a son. She named him Samuel, for she said, 'I have asked him of the Lord'" (1 Samuel 1:20).

Hannah passionately cried out to You in prayer for You to conceive a child in her barren womb. She was "deeply distressed and prayed to the Lord, and wept bitterly" (v. 10). In her anguish and longing for a child, she was "pouring out (her) soul before the Lord" (v. 15). But in her travail, she dedicated her unborn child to You even before she conceived (v. 11). And one day You spoke Your word through Your servant Eli that she would have the petition of her heart and that she could now go in the peace of trusting You for the answer to her prayers (v. 17). Then "her countenance was sad no longer ... and (She) rose early and worshipped before the Lord" (v. 18-19). And "in due time Hannah conceived and bore a son" (v. 20).

We don't know how long was "due time" but we know it was all in Your time. You're the God who makes all things beautiful in Your time (Ecclesiastes 3:11). And when we allow You to stir in our hearts to travail in prayer, You conceive and birth Your will according to Your plans. You turn our sorrow and sadness into joy and worship. And we look and see and celebrate what You have-all "in due time."

All along, You longed for Hannah to bear a child even more than she did. All along, You knew his name would be Samuel, that he would a prophet of the Most High, that You would walk with him and be with him and "let none of his words fall to the ground" (1 Samuel 3:19). Through travailing, prevailing prayer, Hannah was able to participate in Your plans for Your people, while experiencing the joy and peace of trusting You.

Lord, stir in my heart with Your will. Move me to travail and prevail in prayer, pushing through and praying through until all You have conceived is birthed and brought forth "in due time." Like the apostle Paul said he travailed like a woman in labor for the purposes and plans of God to be made manifest, give me that kind of passion and perseverance in prayer (Galatians 4:19). Let me know the joy and peace of participating with You, as travail until I prevail, as I press in and pray through, proclaiming with all my heart, "Your kingdom come, Your will be done, here on earth as it is in heaven" (Matthew 6:10). In Jesus' name I pray. Amen.

Be encouraged today! In the Love of Jesus, Tommy Hays












My Friend, I pray you are stirred in your heart to travail and prevail in prayer until God's plans are conceived and birthed in due time, as you are filled the joy and peace of participating with Him in His will for our lives and our world

,
in Jesus' name!
Please pray the same for me.
God bless you, my friend!
Friends, I'm excited to be speaking on
the Healing Ministry of Jesus at the Vineyard Church
of San Antonio again this coming Sunday.
Please keep us in prayer for the moving of God's Holy Spirit
in His power and love in the mighty name of Jesus!
Free to Be Like Jesus!
Transforming Power of Healing & Deliverance Ministry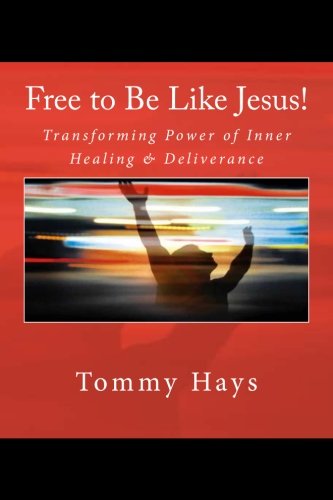 Tommy Hays' 365 Day Prayer Devotional
Morning by Morning, 2nd Edition
"A Deeply Intimate Journey with Jesus"
Tommy Hays | Messiah Ministries
Healing from the Inside Out
Pastoral Director | Rapha God Ministries
4 Dominion Drive, Building 1
San Antonio, Texas 78257
Please share this word to encourage a friend!