Morning by Morning, May 31 - Fire of God, Fall Afresh on Me!

Good morning, Lord Jesus. O Lord, my God -- Father, Son, and Holy Spirit of God -- stir in my spirit with a passion for Your Presence, as I entrust my life and my day completely to You. ...

"So Ahab sent to all the Israelites, and assembled the prophets at Mount Carmel. Elijah then came near to all the people, and said, 'How long will you go limping with two different opinions? ... Let two bulls be given to us; let them choose one bull for themselves, cut it pieces, and lay it on the wood, but put no fire to it; I will prepare the other bull and lay it on the wood, but put no fire to it. Then you call on the name of your god and I will call on the name of the Lord; the God who answers by fire is indeed God.' All the people answered, 'Well spoken!' ... As midday passed, (the prophets of Baal) raved on until the time of the offering of the oblation, but there was no voice, no answer, and no response.... At the time of the offering of the oblation, the prophet Elijah came near and said, 'O Lord, God of Abraham, Isaac, and Israel, let it be known this day that You are God in Israel, that I am Your servant, and that I have done all these things at Your bidding. Answer me, O Lord, answer me, so that this people may know that You, O Lord, are God, and that You have turned their hearts back!' Then the Fire of the Lord fell and consumed the burnt offering, the wood, the stones, and the dust, and even licked up the water that was in the trench. When all the people saw it, they fell on their faces and said, 'The Lord indeed is God! The Lord indeed is God!'" (1 Kings 18:20-39)

Holy Fire, fall on me! I offer afresh my life as my sacrifice (Romans 12:1). I don't' want to be one limping between the ways of this world and the Word of God, between the gods of this age and the God of the Word. I don't want to compromise or be complacent, double-minded to question the authority of Your Word or wavering to doubt the power of Your Spirit. In the name of Jesus, I renounce the "baals" that would seek to take Your place in my heart and Your authority over my life. And I command them, "Go now, away from me and out of my life, in the mighty name of Jesus and by the power of the Blood of the Lamb!" (Mark 16:17; James 4:7; Revelation 12:11) Come fill me afresh and overflowing with Your Presence and Your power! (Ephesians 5:18; Acts 1:4-8)

Come, Holy Spirit! Consume my offering in the Fire of Your Spirit! Burn out of me all that is not yet like You. Purify me and sanctify me--wholly, completely, entirely -- in my spirit and soul and body, that I may be sound and blameless at the coming of my Lord Jesus Christ! (1 Thessalonians 5:23) You indeed are God! You indeed are God! You are the God who answers by Fire! Let Your Holy Fire fall! Fall on me and everything around me! ...

Even as I pray now, I praise You and worship You in spirit and truth (John 4:23). I praise You in the Spirit and "pray in the Spirit" in "holy faith" (Jude 20). I pray by Your Spirit stirring in my spirit "with sighs too deep for words!" (Romans 8:26) "For indeed our God is a consuming Fire" consuming me right now! (Hebrews 12:29) ...

O Lord, my God, keep on consuming me so that the Fire down in my soul is forever fanned into flame and never burns out! (2 Timothy 1:6; Leviticus 6:12; Matthew 25:1-13) In Jesus' name I pray. Amen.

Be encouraged today! In the Love of Jesus, Tommy Hays












My friend, I pray the Holy Fire of God falls afresh on you today and every day, fanning into flame the Fire of the Lord hat will never burn out

,
in Jesus' name!
Please pray the same for me.
God bless you, my friend!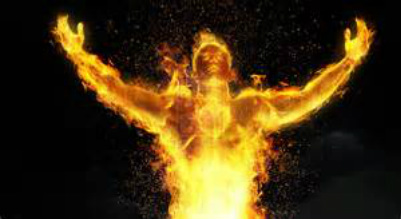 Tommy Hays' 365 Day Prayer Devotional
Morning by Morning, 2nd Edition
"A Deeply Intimate Journey with Jesus"
Tommy Hays | Messiah Ministries
Healing from the Inside Out
Pastoral Director | Rapha God Ministries
4 Dominion Drive, Building 1
San Antonio, Texas 78257
Please share this word to encourage a friend!