Morning by Morning, September 30 - A Clear Trumpet Call to Battle
Good morning, Lord Jesus. Be at the center of all I am and all I do, all I seek and all I pray, now and throughout the moments of my day. ...

"If the trumpet makes an uncertain sound, who will prepare for battle?" (1 Corinthians 14:8).

You're sounding Your trumpet. You're sounding Your alarm. Give us ears to hear and eyes to see. Align our hearts with Your Heart and our spirits with Your Spirit. May we hear and prepare for the epic battle at hand.

Yet there is a measure of spiritual dissonance from so many spiritual leaders who are called to sound the trumpet in these times. There's uncertainty and insecurity. There's confusion and compromise and complacency. Some seem to be sounding the "charge" and others seem to be sounding the "retreat." Some seem to be sending us to the left and others sending us to the right.

But Your Voice is not muffled. The Sound of Heaven is not divided. The Breath of Your Spirit is not hesitant or halting, but clear and distinct, confident and direct.

So set us free from confusion. Deliver us from division. Align our leaders with the only One who can call us up for duty and lead out into battle and establish us in the victory of the Kingdom of God.

Let us hear the sound of Your Trumpet and the Voice of Your Spirit. As we listen for Your Voice, as we lean in and look up to truly seek to discern Your leading, we will hear what Your Spirit is saying is Your church (Revelation 3:22). Then "when (we) turn to the right or when (we) turn to the left, (our) ears shall hear a word behind (us), saying, 'This is the way; walk in it'" (Isaiah 30:21). Then "together (we) may with one voice glorify the God and Father of our Lord Jesus Christ" (Romans 15:6). Then as "one" the world will know that the Father has sent His Son to lead us into the mercy and love You desire for every one of us (John 17:21). In Jesus' name I pray. Amen.


Be encouraged today! In the Love of Jesus, Tommy Hays



My friend,
m
ay you hear the Voice of the Spirit, as you lean in and look to hear and follow His leading into the victory He has for you,
in Jesus name.
Please pray the same for me.
God bless you, my friend!
Please come join us
if you can and keep us in prayer if you can't for this exciting opportunity of ministry:
An Evening of Worship, Encouragement, and Ministry
October 1, 2020 at the Kendall Inn in Boerne, Texas Sponsored by Aglow International
Free to Be Like Jesus!
Transforming Power of Inner Healing & Deliverance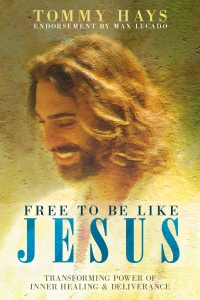 New Mailing Address for Messiah Ministries:
17503 La Cantera Parkway,
Suite 104407
Tommy & Rocio Hays | Messiah Ministries
Please share this word to encourage a friend!