Morning by Morning, January 31 - Don't Miss the Day of Visitation

Good morning, Lord Jesus. Lord, I need You and I seek You. Apart from You I can do nothing. So I thank You that I'm never apart from You, and I willingly choose to be desperately dependent upon You. When I'm weak, then I'm strong in the power of Your strength; and Your grace is sufficient for me. Fill me afresh with Your Spirit now, as I embrace Your grace to begin this day embraced by my Father, centered in Christ, and filled with the Holy Spirit. ...

"Glorify God in the day of visitation" (1 Peter 2:12 NKJV).

One day You'll come again in great glory on the earth. "For the Lord Himself, with a cry of command, with the archangel's call and with the sound of trumpet, will descend from heaven, and the dead in Christ will rise first. Then we who are alive, who are left, will be caught up in the clouds together with Him to meet the Lord in the air; and so we will be with the Lord forever" (1 Thessalonians 4:16-17). But at the same time, every day between this and that one, You want to come in Your glory here in my heart. Every day is the day of Your visitation for those who lift up our heads and open up our gates "that the King of glory may come in" (Psalm 24:7).

So don't let me miss a moment of Your visitation. Don't let me live out a day without acknowledging Your Presence and welcoming Your Spirit into every area of my life and every moment of my day. At Your first coming, You wept over Jerusalem "because (they) did not recognize the time of (their) visitation" (Luke 19:41-44). And You weep now for those who are missing Your visitation every day, living life without Your Presence and Your power and Your grace.

Lord Jesus, open our eyes to see You. Holy Spirit, open our hearts to receive You. Heavenly Father, open our arms to embrace You. Set us free from the deception of self-sufficiency and the pride of self-centeredness that stands as a wall between Your Presence and our need of Your grace. "God opposes the proud, but gives grace to the humble.... Humble yourselves before the Lord, and He will exalt you" (James 4:6-10).

Today is the day of our visitation! Today is the day of our salvation! "For God says, 'At just the right time, I heard you. On the day of salvation, I helped you.' Indeed, the 'right time' is now! Today is the day of salvation!" (2 Corinthians 6:2 NLT) Don't let us miss it. Don't let us miss You. By the power of Your grace, I open wide these gates and let the King of glory come in! In Jesus' name I pray. Amen.


Be encouraged today! In the Love of Jesus, Tommy Hays



My friend, may you embrace your day of visitation this day and every day -- embraced by the Father, centered in Christ, and filled with the Holy Spirit -- this day and very day, in Jesus' name! Please pray the same for me! God

bless you, my friend!
Register for the Healing Academy.
Friends, I'll be teaching at the

Healing Academy

on Healing and Deliverance Prayer Ministry this coming February 5-8, 2019 in the Nashville area at the

Aldersgate Renewal Ministries Center

. Please come join us if you're being called to healing prayer ministry! Sign up today:
Healing Academy
I'll be Teaching from the principles of my book on healing prayer ministry, Free to Be Like Jesus -- Transforming Power of Inner Healing and Deliverance (Endorsed by Max Lucado, Randy Clark, and Andy Reese)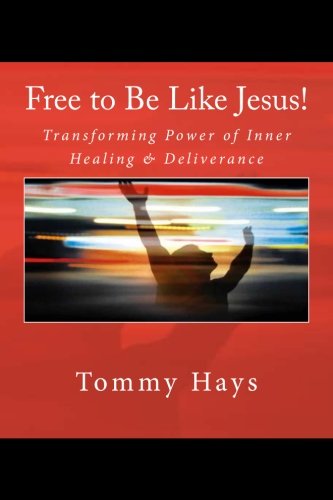 Endorsements for Free to Be Like Jesus
from Trusted Spiritual Leaders
"Tommy Hays has spent a lifetime studying the place of prayer in inner healing. I have personally benefitted from his teaching, writing and encouragement. This book gathers a wealth of helpful insights and experiences into one volume. I am honored to have it on my shelf and honored to call Tommy my friend."
Max Lucado
"Tommy Hays combines a lawyer's keen logic with a spiritual intuition to bring inner healing to a practical, effective and applied level. His proven techniques have been used in hundreds of ministry settings and can serve as simple yet profound tools in the hands of even the novice minister."
Andy Reese
Author of Freedom Tools
"Free to Be Like Jesus
will take you on a journey to learn more about the inner healing ministry. This book has many foundational spiritual truths and will help you if you want more healing in your own life, or if you want more tools to assist you in your inner healing ministry."
Randy Clark
Global Awakening
Keynote Speaker in Shropshire, England for March Conference "Release for the Captives!"
Friends, I'm excited to be invited as Keynote Speaker this year for the European Conference of the Holy Spirit through Aldersgate Renewal Ministries in Shropshire, England in March. The theme this year is "Release for the Captives!" Come join us!
Tommy Hays | Messiah Ministries
Healing from the Inside Out
Pastoral Director | Rapha God Ministries
4 Dominion Drive, Building 1
San Antonio, Texas 78257
Please share this word to encourage a friend!