Morning by Morning, August 30 - Firm Steps on His Path
Good morning, Lord Jesus. As I look to You and listen for Your leading in these first moments of my morning, You make me settled and secure, covered and content, in Your plan for my day and Your presence in my spirit. ...
"Our steps are made firm by the Lord, when He delights in our way; though we stumble, we shall not fall headlong, for the Lord holds us by the hand" (Psalm 37:23-24).
Take me by the hand and lead me by the heart. Guide my steps and make them firm. Then, even if I stumble, You'll be there to catch me; and even if I fall, You'll be there to lift me up.
As best as I can and all by Your grace, I want my way to be godly in You so You can delight in my way before You. I want to "walk in the Light" You've set before me by the power of Your grace at work within me (1 John 1:7). "For God is working in (me), giving (me) the desire and the power to do what pleases Him" (Philippians 2:13 NLT).
Thank You for all Your mercy and grace when I have fallen and failed. And thank You for all Your mercy and grace to help keep me from falling and failing again. "The godly may trip seven times, but they will get up again" (Proverbs 24:16 NLT).
As You said through Your Word, "My little children, I am writing these things to you so that you may not sin. But if anyone does sin, we have an Advocate with the Father, Jesus Christ the righteous; and He is the Atoning Sacrifice for our sins, and not for ours only but also for the sins of the whole world" (1 John 2:1-2). I'm forever in need of Your Atoning Sacrifice, the power of Your Blood, that forgives me and cleanses me from all the unrighteous of all my falls and failures through the gift of confession and the grace of repentance (1 John 1:9).
Your promise is ever true and gives me peace every day: "The steadfast love of the Lord never ceases, His mercies never come to an end; they are new every morning; great is Your faithfulness" (Lamentations 3:22-23). "Who shall ascend the hill of the Lord? And who shall stand in His holy place? Those who have clean hands and pure hearts.... They will receive blessing from the Lord, and vindication from the God of their salvation. Such is the company of those who seek Him, who seek the face of the God of Jacob" (Psalm 24:3-6)
I do seek You. I do confess my sins, acknowledge my falls and failures before You. I do turn my heart to You in humble repentance and trusting faith. And I do receive all the mercy and grace You've provided for me through the Blood of Jesus, my Advocate and Atoning Sacrifice for all my sins. This is how You lead me "in the paths of righteousness" (Psalm 23:3).
Now I can ascend that hill of the Lord, the mountain of my God, into the holy place of Your presence. Now I can walk in Your Light and walk in the way that brings delight to Your heart along the steps You've set before me today -- not by what I've done or will do, but all by the mercy and grace of all You've done for me. As the old hymn of worship proclaims -- "Strength for today and bright hope for tomorrow! ... Great is Thy faithfulness, Lord unto me!" In Jesus' name I pray. Amen.
Be encouraged today! In the Love of Jesus,
Tommy Hays
My friend, may you walk in the firm steps of God's paths of righteousness for you today, trusting in Your Advocate who forgives you and empowers you and leads you in the way that delights the heart of God, in Jesus' name. Please pray the same for me. God

bless you, my friend!
Our School of Ministry Starts Next Week!
Our Level 1 School of Ministry is a comprehensive Prayer Ministry training based on God's Word, designed to inform and provide a Biblical foundation for inner healing and freedom prayer in a casual learning environment. Topics include Biblical Principles of Inner Healing -- "Healing from the Inside Out," Spiritual Gifts, and Potential Barriers to Healing, as well as a brief overview of Inner Healing and Personal Prayer tools. The training includes six, three hour evening sessions over the course of three weeks in the early Fall.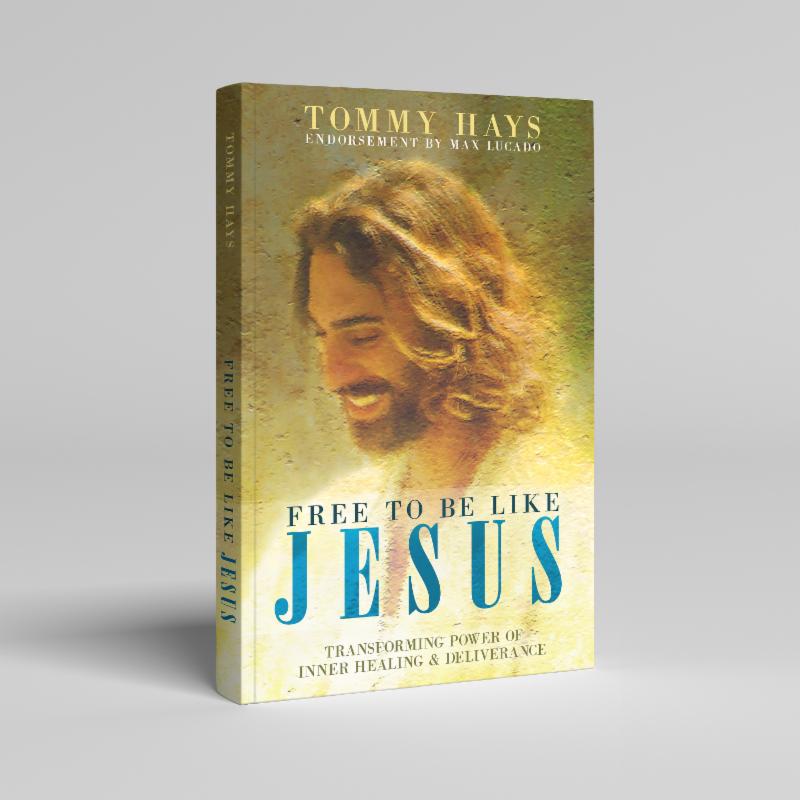 Thank you for joining with me on this journey of prayer -- Morning by Morning! God bless you!
Tommy Hays | Messiah Ministries
Healing from the Inside Out
Pastoral Director | Rapha God Ministries
4 Dominion Drive, Building 1
San Antonio, Texas 78257
Please share this word to encourage a friend!