Morning by Morning, March 8 - Overcoming by God's All-Sufficient Grace

Good morning, Lord Jesus. Help me start my day embraced by my Father, centered in Christ, and filled with Your Holy Spirit. ...

"He said to me, 'My grace is sufficient for you, for My power is made perfect in weakness.' So, I will boast all the more gladly of my weaknesses, so that the power of Christ may dwell in me. Therefore I am content with weaknesses, insults, hardships, persecutions, and calamities for the sake of Christ; for whenever I am weak, then I am strong" (2 Corinthians 12:9-10).

Whenever I feel sick, You are my Healer. Whenever I feel discouraged, You are my Encourager. Whenever I feel attacked, You are my Defender. Whenever feel weary, You are my Strength. You're with me through it all and none of that have the last word over me. The power of Your Presence dwelling in me is all I need to endure until I overcome in Your all-sufficient grace.

"No, in all these things we are more than conquerors through Him who loved us" (Romans 8:36). "I can do all things through Christ who strengthens me" (Philippians 4:13 NKJV). "Thanks be to God who gives us the victory through our Lord Jesus Christ!" (1 Corinthians 15:57)

Lord, as You know, I haven't felt well for several days. But You've been with me through it all, standing by my side and abiding in my heart. You're already taken upon Yourself everything that would try to take hold of me, that I could be healed and whole and free (Isaiah 53:4-6 fulfilled by Christ in Matthew 8:17). So by the power of Your grace at work within me, I come into agreement and alignment with Your Word that will not return void and will accomplish Your good will for me (Isaiah 55:11). Your will and Your plans for me are always good (Jeremiah 29:11). So I thank You now for what You've already done and all these good things of Your good will that I will see come to pass (Mark 11:24). In Jesus' name I pray. Amen.




Be encouraged today! In the Love of Jesus, Tommy Hays



My Friend, I pray you are strengthened and encouraged, healed and free, thanking God now for all He has done and will help you to see and embrace in His good will for you,
in Jesus' name! Please pray the same for me
.
God bless you, my friend!
I'm sorry to have missed sending out my daily prayer devotionals for several days. I write these and send them out fresh from my morning prayer time each when I'm able. Last weekend I was away leading a spiritual retreat and then started feeling bad for several days, but the the Lord is healing me. Thank you for your prayers and thank you for joining with me in this daily journey!
Living in the Freedom and Authority of a Spirit-filled Life!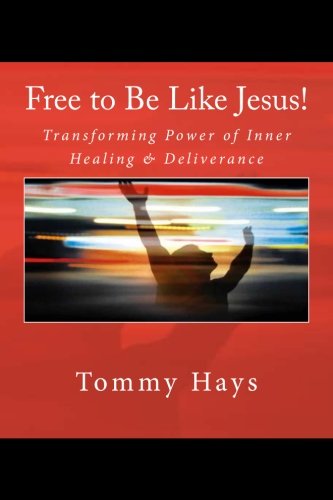 Tommy Hays | Messiah Ministries
Healing from the Inside Out
Pastoral Director | Rapha God Ministries
4 Dominion Drive, Building 1
San Antonio, Texas 78257
Please share this word to encourage a friend!