Morning by Morning, April 12 - Look and Love

Good morning, Lord Jesus. I welcome here in my heart and every moment of my day. Now I listen and wait for the leading of Your Spirit, here in the embrace of my Father. ...

"Jesus, looking at him, loved him and said, 'You lack one thing; go, sell what you own, and give the money to the poor, and you will have treasure in heaven; then come, follow Me'" (Mark 10:21).

You know what it is in each of our hearts that holds us back from fully following You. For some, it's wealth or pride. For others, it's loss and lack. For some, it's the shame and regret of our past. For others, it's the fear and uncertainty of our future. But whatever it is, You look at us and You love us. You never turn away from us, but encourage us to entrust all that we are and all that we have completely to You.

And just as You look at us and love us, You want to give us that same heart toward those around us. We're not to stare and judge; we're to look and love. As I pray, I hear Your Spirit writing a song in my heart of You call to us to look and to love with Your eyes and Your heart. ...

You look and you love

And the arms from above

Will reach around you

Will love right through you

As You look and you love

He'll be more than enough

He will reach around you

He will love right through you

Just give Him your heart

He will give you His eyes

And wherever you are

You'll be His sight

To look and to love

With His arms from above

To the lost and the least

To heal and set free

In the power of His love

His Kingdom will come

As He opens your eyes

To look and to love

Yes, Lord. Let it be so. Just as You look at me, but reach out and love to me, let me do the same -- as best as I can and all by Your grace. In Jesus' name I pray. Amen.


Be encouraged today! In the Love of Jesus, Tommy Hays
I pray you live look and love with the eyes and heart of Jesus today, in Jesus' name.
Please
pray the same for me. God bless you, my friend!
Friends, Thank You so much for your prayers for us last night when I had a chance to share about inner healing prayer ministry and minister live on Radio Air Jesus on the Monday Night Emerge program with Lee and Vanessa Rios. There were tears and joy in the ministry and the message of encouragement went out to over a hundred nations. Praise God! We thank God for this ministry that touches nations and allowed us to be a part!
Please join us for our
2016 Inner Healing Conference of Rapha God Ministrieson April 22-14 in San Antonio
From Brokenness to Breakthrough!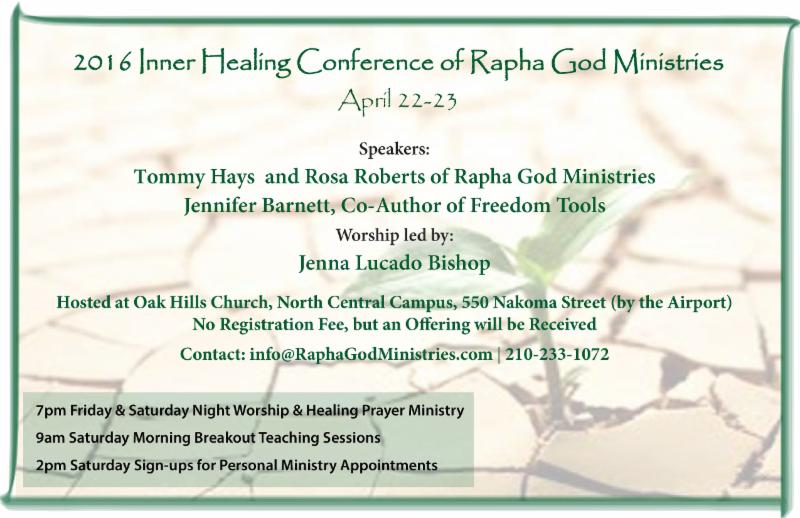 I'm excited to be preaching a message on Inner Healing at
The Vineyard Church of San Antonio. I'll be preaching thenext two Sunday mornings
at 10:30. Please keep us in your prayers!
www.vineyardsa.org
God bless you!
Tommy Hays | Messiah Ministries
Healing from the Inside Out
Pastoral Director | Rapha God Ministries
4 Dominion Drive, Building 1
San Antonio, Texas 78257
Please share this word to encourage a friend!