Morning by Morning, April 14 - Complete Joy

Good morning, Lord Jesus. Speak to my heart, Good Shepherd of my soul, I pray. Help me begin this day embraced by my Father, centered in Christ, and filled with the Holy Spirit. ...

"I have said these things to you so that My joy may be in you, and that your joy may be complete" (John 15:11).

Complete joy is only in Jesus. No Jesus, no joy. Know Jesus, know joy.

Lord Jesus, You long for Your joy to be in us. So You speak to us and teach us and lead us into Your joy. And You express to us the interwoven, inseparable relationship between love, obedience, and joy: "My Father is glorified by this, that you bear much fruit and become My disciples. As the Father has loved Me, so I have loved you; abide in My love. If you keep My commandments, you will abide in My love, just as I have kept My Father's commandments and abide in His love. I have said these things to you so that My joy may be in you, and that your joy may be complete. This is My commandments, that you love one another as I have loved you" (John 15:8-12).

A joyful life is a fruitful life -- a life that's fruitful through receiving and sharing the love of God through Jesus Christ. Lord, teach me how to love more deeply and how to embrace Your joy more fully. Increase my capacity for joy as You increase my capacity for love. In Jesus' name I pray. Amen.


Be encouraged today! In the Love of Jesus, Tommy Hays
I
pray you know the complete joy of Jesus, as the Holy Spirit continually increases your capacity for love and joy in a fruitful life of obedience to God, in Jesus' name.
Please
pray the same for me. God bless you, my friend!
Please join us and spread the word for our
2016 Inner Healing Conference of Rapha God Ministrieson April 22-23 in San Antonio
at Oak Hills Church, North Central Campus by the Airport
From Brokenness to Breakthrough!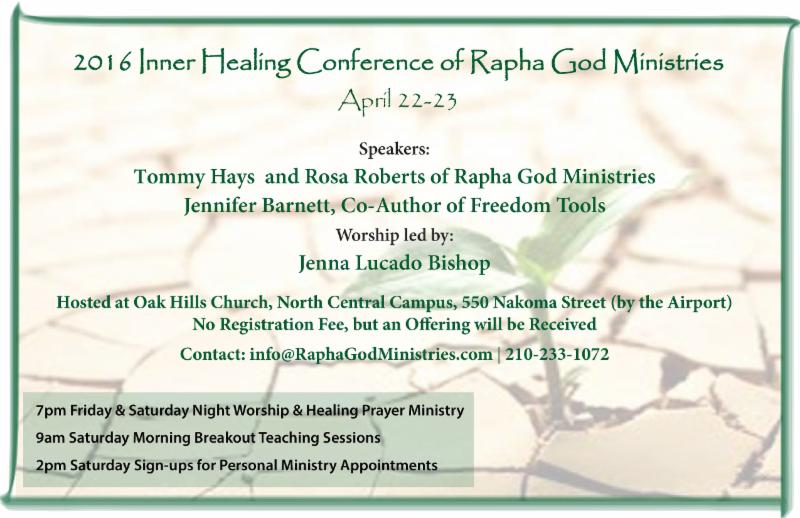 I'm excited to be preaching a series on Inner Healing at
The Vineyard Church of San Antonio. I'll be preaching thenext two Sunday mornings
at 10:30. Please keep us in your prayers!
www.vineyardsa.org
God bless you!
Tommy Hays | Messiah Ministries
Healing from the Inside Out
Pastoral Director | Rapha God Ministries
4 Dominion Drive, Building 1
San Antonio, Texas 78257
Please share this word to encourage a friend!