Morning by Morning, April 20 - "In Your Hearts Sanctify Christ as Lord"

Good morning, Lord Jesus. You're Lord of my life. Come be Lord of the moments of my day. ...

"In your hearts sanctify Christ as Lord" (1 Peter 3:15).

Lord, I know You're the One who saves me and sanctifies me. You're the One who forgives me and frees me, who heals me and holds me. You're the One the loves me and leads me, who calls me and commissions me. So how do I "sanctify Christ as Lord" in my heart? ...

It seems I hear You say in my heart: "You sanctify Me as Lord in your heart to the degree that you choose to trust Me and entrust to Me that measure of control and authority in your life, from your heart." ...

Yes, Lord. Any area of my heart, any area of my life, where I'm in control, I'm not trusting You to be in control. Where I'm being Lord, I'm not trusting You to be Lord. Those are the places of my heart I've not fully committed and surrendered to You alone as Lord of my life.

Show me those places, Lord. Search my heart and see if there's anything I'm holding back from You, anything I'm protecting and guarding within myself instead of fully entrusting myself to completely to You, anything in me that's not yet like You. "Search me, O God, and know my heart; test me and know my thoughts. See if there is any wicked way in me, (any resistant, not fully trusting way in me), and lead me in the way everlasting" (Psalm 139:23-24).

And as You reveal these things to me, these places in my heart I've not fully surrendered to You, help me trust You more so I can choose to surrender more -- as best as I can and all by grace, more and more every day. Give me the wisdom and the courage, the power and the grace, to sanctify You as Lord in my heart, Lord Jesus Christ. In Jesus' name I pray. Amen.


Be encouraged today! In the Love of Jesus, Tommy Hays
I pray you'll allow the Lord to reveal Himself to you in the way you need so you can can trust Him more and entrust more of your heart to Him every day, sanctifying Jesus Christ as Lord in your heart, in Jesus' name.
Please
pray the same for me. God bless you, my friend!
Friends, this is our model of inner healing prayer ministry -- Reveal, Remove, and Replace -- letting the Lord reveal Himself and what we need to let go or surrender to Him, letting Him remove it as He heals us and frees us, then letting Him replace it with a deeper measure of His love, His truth, His Spirit so we can live into the fullness of all He created us to be.
Please come join us of our Inner Healing Conference this weekend --

From Brokenness to Breakthrough!

If you're not able to join us, you might consider our

dvds from our School of Ministry on the Biblical principles of inner healing, request my book Free to Be Like Jesus or call our ministry office for other resources or to set up your personal prayer ministry appointment: RaphaGodMinistries.com We offer sessions free, without cost to all who come.
From Brokenness to Breakthrough!
Please join us and spread the word for our
2016 Inner Healing Conference of Rapha God Ministrieson April 22-23 in San Antonio
at Oak Hills Church, North Central Campus by the Airport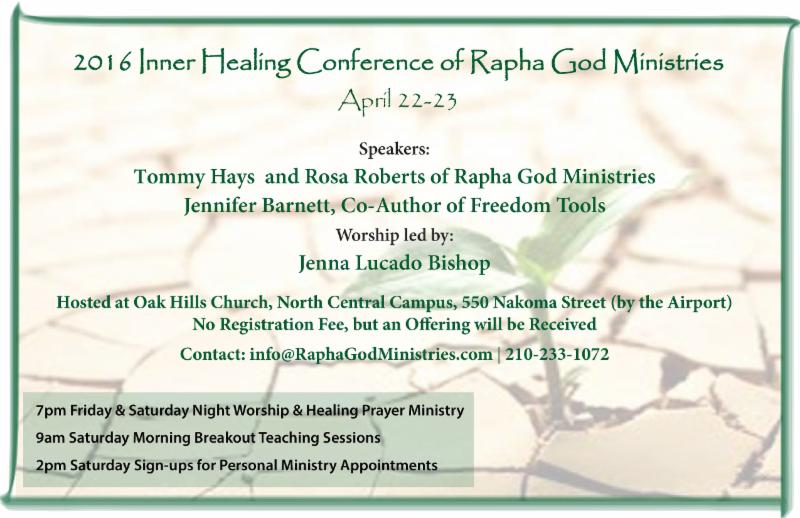 Tommy Hays | Messiah Ministries
Healing from the Inside Out
Pastoral Director | Rapha God Ministries
4 Dominion Drive, Building 1
San Antonio, Texas 78257
Please share this word to encourage a friend!