Morning by Morning, April 8 - The Birth of Caleb and A Caleb Generation




Good morning, Lord Jesus. You are One with the Father and One with the Holy Spirit. Be One within me through the communion of prayer as I start my day seeking Your face and listening for Your voice. ...
"But My servant Caleb, because he has a different spirit and has followed Me wholeheartedly, I will bring into the land into which he went, and his descendants shall possess it" (Numbers 14:24). Caleb had "a different spirit."
He lived in a time when even the people of God tested You and resisted You and would not obey You (v. 22). They leaned on their own understanding; they depended on their own strength and wisdom. And so they were limited by fear, restricted to only what they could accomplish in their own abilities, and subjected to failure. They couldn't enter into the fullness of the inheritance You longed for them to embrace. Instead, in their stubbornness and pride, they were self-determined -- and therefore, self-destined -- to wander in a wilderness of something far less than the promised land of Your Father heart for their lives (v. 23).
But Caleb had "a different spirit." He sought You and pursued You and followed You "wholeheartedly" (v. 24). His spirit was a foreshadow of a generation to come (Colossians 2:17). The passion of his life spoke of a passionate people of God, filled with a different, "filled with the (Holy) Spirit" (Ephesians 5:18). His life inspires us to be a people of a generation - a Caleb generation - "baptized with the Holy Spirit" (Acts 1:5) and set ablaze with a fiery passion in our hearts that's unrestricted, unrestrained, and unafraid from embracing the fullness of our inheritance of identity and destiny in You (Matthew 3:11).
May we be a generation of those who pursue and passionately "love the Lord (our) God with all (our) heart, and with all (our) soul, and with all (our) mind, and with all (our) strength" -- wholeheartedly devoted to You (Mark 12:30).
Yesterday morning, at 10:54 am on April 8, 2016, Caleb was born. Caleb Michael Miller -- the first child of our dear friends Taylor Watts Miller and Matt Miller, and the first grandchild of my ministry partner, Tammy Watts and old law partner, Mikal Watts -- has entered this world to take it by storm. May Caleb live into the fullness of the calling of his destiny in his identity of all that his name implies and inspires.
And may the birth of Caleb be a birthing of a fresh passion in the hearts of the people of God -- a people of "a different spirit," filled with the Holy Spirit, unrestricted, unrestrained, and unafraid, wholeheartedly devoted to You. With that different Spirit in our hearts, may we share the Good News of Jesus Christ, with all the grace and mercy and power and love of our God to the ends of the earth, that "the earth will be filled with the knowledge of the glory of the Lord, as the waters cover the sea" (Habakkuk 2:14, Matthew 28:18-20).
May God bless Caleb. And may God bless this Caleb generation. In Jesus' name I pray. Amen.

Be encouraged today! In the Love of Jesus, Tommy Hays
I pray you will be filled afresh, baptized with the Holy Spirit and with fire, wholeheartedly devoted to God, embracing the fullness of your identity and destiny in Jesus Christ, in Jesus' name.
Please
pray the same for me. And please join with me in praying for God's blessings upon the life of Caleb Michael Miller and his family. God bless you, my friend!
Friends, I'm excited to be preaching at The Vineyard Church of San Antonio the next three Sunday mornings at 10:30. Please keep us in your prayers! www.vineyardsa.org
Please join us for our
2016 Inner Healing Conference of Rapha God Ministrieson April 22-14 in San Antonio
From Brokenness to Breakthrough!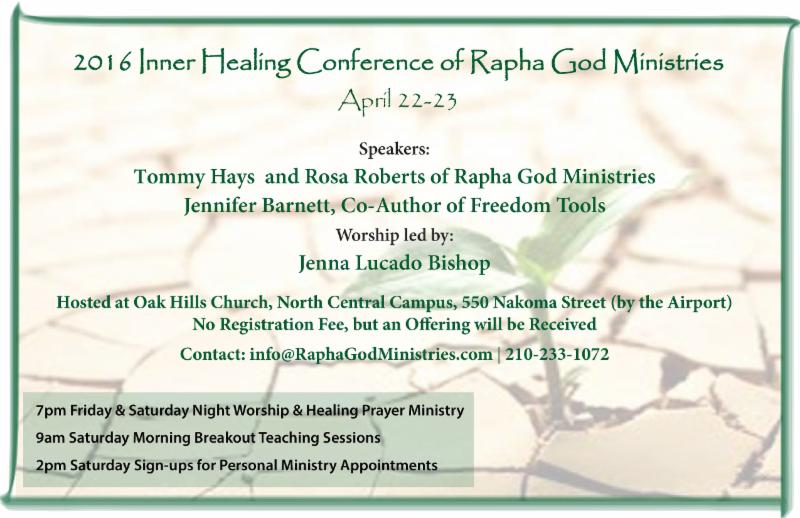 Tommy Hays | Messiah Ministries
Healing from the Inside Out
Pastoral Director | Rapha God Ministries
4 Dominion Drive, Building 1
San Antonio, Texas 78257
Please share this word to encourage a friend!