Morning by Morning, October 11 - We are "One Bread and One Body"

Good morning, Lord Jesus. You are One with the Father, One with the Holy Spirit, be One within me today. ...

"The cup of blessing which we bless, is it not the communion of the blood of Christ? The bread which we break, is it not the communion of the body of Christ? For we, though many, are one bread and one body; for we all partake of that one Bread" (1 Corinthians 10:16 NKJV).

In these days of division and strife, remind us that we are one in You. Though we are many, we are also one. Though we may have different forms of worship, different traditions of expressions of our faith, even different understandings and interpretations of Your Word at times, we are also one. There is "one bread, one body," united through the body and blood of one Savior, our Lord Christ.

"There is one God, the Father, from whom are all things and for whom we exist, and one Lord, Jesus Christ, through whom are all things and through whom we exist" (1 Corinthians 8:6). And in You, we "have been called, with all humility and gentleness, with patience, bearing with one another in love, making every effort to maintain the unity of the Spirit in the bond of peace. There is one body and one Spirit, just as (we) were called to the one hope of (our) calling, one Lord, one faith, one baptism, one God and Father of all, who is above all and through all and in all" (Ephesians 4:1-6).

Come, Holy Spirit. Unite us in the oneness of Christ as the sons and daughters of our Father God we are created and called to be. May the bond of Your peace break down our walls, heal our divisions, and set things right in our hearts for the sake of our witness to our world. Lord Jesus, may Your prayer from Your last days before Your sacrifice as the Son of Man on this earth be answered in us: "That they may all be one. As You, Father, are in Me and I am in You, may they also be in Us, so that the world may believe that You have sent Me. The glory that You have given Me I have given them, so that they may be one, as We are One, I in them and You in Me, that they may be completely one, so that the world may know that You have sent Me and have loved them even as You have loved Me" (John 17:21-23). In Jesus' name I pray. Amen.


Be encouraged today! In the Love of Jesus, Tommy Hays






May you be one in Christ with the body of Christ throughout the world and all generations as a witness of our Father's love in our world by the bond of peace in the unity of the Holy Spirit,
in Jesus' name! Please pray the same of me
.
God bless you, my friend!
Friends, I'm excited to be publishing my new book --
Free to Be Like Jesus! (Updated and Revised 3rd Edition) endorsed by Max Lucado, Andy Reese and Randy Clark.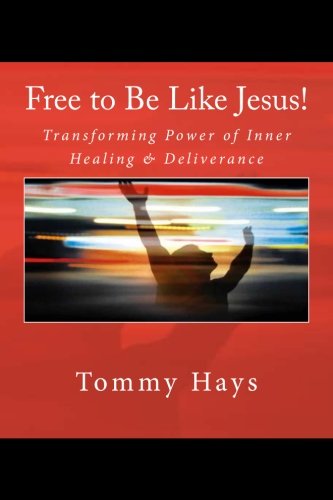 Endorsement from Max Lucado:

"Tommy Hays has spent a lifetime studying the place of prayer in inner healing. I have personally benefitted from his teaching, writing, and encouragement. This book gathers a wealth of helpful insights and experiences into one volume. I am honored to have it on my shelf and honored to call Tommy my friend."
Endorsement from Andy Reese,
"Tommy Hays combines a lawyer's keen logic with a spiritual intuition to bring inner healing to a practical, effective, and applied level. His proven techniques have been used in hundreds of ministry settings and can serve as simple yet profound tools in the hands of even the novice minister."
Endorsement from Randy Clark,
"Free to Be Like Jesus! will take you on a journey to learn more about the inner healing ministry. This book has many foundational spiritual truths and will help you if you want more healing in your own life, or if you want more tools to assist you in your inner healing ministry."
Tommy Hays | Messiah Ministries
Healing from the Inside Out
Pastoral Director | Rapha God Ministries
4 Dominion Drive, Building 1
San Antonio, Texas 78257
Please share this word to encourage a friend!