Morning by Morning, October 12 - Believing and Embracing the "Precious and Very Great Promises" of God

Good morning, Lord Jesus. First things first, as I begin my day embraced my Father, centered in Christ, and filled afresh with Your Holy Spirit. ...

"His divine power has given us everything needed for life and godliness, through the knowledge of Him who called us by His own glory and goodness. Thus He has given us, through these things, His precious and very great promises, so that through them (we) may escape from the corruption that is in the world because of lust, and may become participants of the divine nature" (2 Peter 1:3-4).

You've already given me everything I need. Knowing You and Your nature, trusting You and Your will, helps me rest and receive all You've provided for me in my personal and intimate relationship with You. "Grace and peace (are mine) in abundance in the knowledge of God and of Jesus (my) Lord" (v. 2).

Help me believe and embrace these "precious and very great promises." When I need protection or provision or power, when I need hope or healing or help, when I need guidance or gentleness or goodness, when I need faith or fruitfulness or fulfillment, You've already promised it and already provided it. "Blessed be the God and Father of our Lord Jesus Christ, who has blessed us with every spiritual blessing in the heavenly place.... according to the riches of His grace that He lavished on us" (Ephesians 1:3-8).

You are faithful and true, so worthy of my trust. So I take You at Your Word and embrace You by grace to believe in Your promises by faith. "And my God will fully satisfy every need of (mine) according to (Your) riches in glory in Christ Jesus. To our God and Father be glory forever and ever" (Philippians 4:19). In Jesus' name I pray. Amen.




Be encouraged today! In the Love of Jesus, Tommy Hays






May you believe and embrace the precious and very great promises of God in every area of your need and every moment of your life,
in Jesus' name! Please pray the same of me
.
God bless you, my friend!
Friends, I'm excited to be publishing my new book --
Free to Be Like Jesus! (Updated and Revised 3rd Edition) endorsed by Max Lucado, Andy Reese and Randy Clark.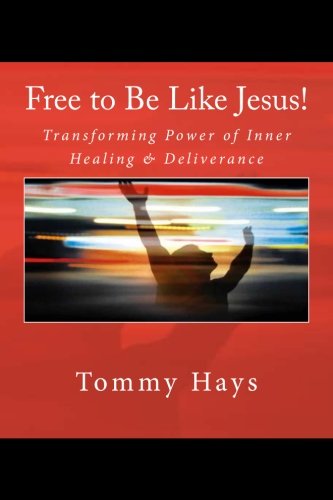 Endorsement from Max Lucado:

"Tommy Hays has spent a lifetime studying the place of prayer in inner healing. I have personally benefitted from his teaching, writing, and encouragement. This book gathers a wealth of helpful insights and experiences into one volume. I am honored to have it on my shelf and honored to call Tommy my friend."
Endorsement from Andy Reese,
"Tommy Hays combines a lawyer's keen logic with a spiritual intuition to bring inner healing to a practical, effective, and applied level. His proven techniques have been used in hundreds of ministry settings and can serve as simple yet profound tools in the hands of even the novice minister."
Endorsement from Randy Clark,
"Free to Be Like Jesus! will take you on a journey to learn more about the inner healing ministry. This book has many foundational spiritual truths and will help you if you want more healing in your own life, or if you want more tools to assist you in your inner healing ministry."
Tommy Hays | Messiah Ministries
Healing from the Inside Out
Pastoral Director | Rapha God Ministries
4 Dominion Drive, Building 1
San Antonio, Texas 78257
Please share this word to encourage a friend!