Morning by Morning, October 6 - Shine Like Stars!




Good morning, Lord Jesus. I speak out Your name and listen for Your voice to begin my day in the communion of prayer with You, my God -- Father, Son, and Holy Spirit. ...
"Those who are wise shall shine like the brightness of the sky, and those who lead many to righteousness, like the stars forever and ever" (Daniel 12:3). Even through "the time of anguish," we can be at peace in You (v. 1). Even in the midst of the darkness, we can shine "like the stars" (v. 3). You are our Hope. You are our Strength. And You are the One who keeps us strong in our faith and hopeful in our hearts no matter what's going on in our world around us.
As we remain faithful to You, You remain faithful to us. "Happy are those who persevere" (v. 12). And as we persevere -- steadfast in faith, embraced by Your grace, and secure in Your love -- we will even "lead many to righteousness," to the Righteous One who sets things right, here in our hearts and here in our world (v. 3). As You spoke of these days to come from long ago, "many shall be purified, cleansed, and refined.... None of the wicked shall understand, but those who are wise shall understand" (v. 10).
Lord, give me the grace to be wise and faithful and true. Let Your light shine through me and Your love flow through me, even through the dark days and anxious times. Even when "many shall be running back and forth, and evil shall increase," empower me to hold fast in You as You remind me that You're always holding fast to me (v. 4).
By the power of Your forgiveness and grace, Your mercy and love, may I be found faithful as a child of God, living out the promises of God to the people of God in our days -- "blameless and innocent, children of God without blemish in the midst of a crooked and perverse generation in which (we) shine like stars in the world.... holding fast to the word of life" (Philippians 2:15-16). In You, may we "Arise, shine; for (our) Light has come, and the glory of the Lord has risen upon (us)! For darkness shall cover the earth, and thick darkness the peoples; but the Lord will arise upon (us), and His glory will appear over (us). Nations shall come to (our) light, and kings to the brightness of (our) dawn!" (Isaiah 60:1-3) In Jesus' name I pray. Amen.

Be encouraged today! In the Love of Jesus, Tommy Hays









May you shine like a star in the midst of your world every day -- steadfast in faith, embraced by God's grace, secure in His love,
in Jesus' name! Please pray the same of me
.
God bless you, my friend!
Friends, I'm excited to be publishing my new book --
Free to Be Like Jesus! (Updated and Revised 3rd Edition) endorsed by Max Lucado, Andy Reese and Randy Clark.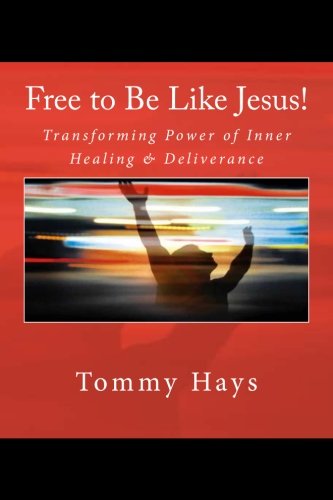 Endorsement from Max Lucado:
"Tommy Hays has spent a lifetime studying the place of prayer in inner healing. I have personally benefitted from his teaching, writing, and encouragement. This book gathers a wealth of helpful insights and experiences into one volume. I am honored to have it on my shelf and honored to call Tommy my friend."
Endorsement from Andy Reese,
"Tommy Hays combines a lawyer's keen logic with a spiritual intuition to bring inner healing to a practical, effective, and applied level. His proven techniques have been used in hundreds of ministry settings and can serve as simple yet profound tools in the hands of even the novice minister."
Endorsement from Randy Clark,
"Free to Be Like Jesus! will take you on a journey to learn more about the inner healing ministry. This book has many foundational spiritual truths and will help you if you want more healing in your own life, or if you want more tools to assist you in your inner healing ministry."
Tommy Hays | Messiah Ministries
Healing from the Inside Out
Pastoral Director | Rapha God Ministries
4 Dominion Drive, Building 1
San Antonio, Texas 78257
Please share this word to encourage a friend!