Morning by Morning, February 5 - Let the River Flow!

Good morning, Lord Jesus. Fill me up and pour me out! ...

"The He brought me back to the entrance of the temple; there, water was flowing from below the threshold of the temple.... Everything will live where the river goes.... On the banks, on both sides of the river, there will grow all kinds of trees for food. Their leaves will not wither nor their fruit fail, but they will bear fruit every month, because the water from them flows from the sanctuary. Their fruit will be for food, and their leaves for healing" (Ezekiel 47:1-12).

My heart is Your sanctuary. My spirit is Your temple. My life is Your river. Let Your river flow! Bring life to all You touch! Just as You said, "Out of the believer's heart shall flow rivers if living water" (John 7:38).

By the power of Your grace, I'll not dam it up, I'll not hold it back. I'll let it flow! As the old song says, "Let the River flow! ... Move in power!" Healing and hope, freedom and forgiveness, mercy and miracles, purity and power -- refreshing, renewing, reviving in us all and all You touch! In Jesus' name I pray. Amen.


Be encouraged today! In the Love of Jesus, Tommy Hays



My friend, may the Mighty River of God's Holy Spirit flow through you today bringing His Life to all He touches, in Jesus' name! Please pray the same for me! God

bless you, my friend!
Healing Academy at Aldersgate Renewal Ministries this week. Please keep us in prayer for a mighty move of God's Spirit for healing and equipping!
I'll be Teaching from the principles of my book on healing prayer ministry, Free to Be Like Jesus -- Transforming Power of Inner Healing and Deliverance (Endorsed by Max Lucado, Randy Clark, and Andy Reese)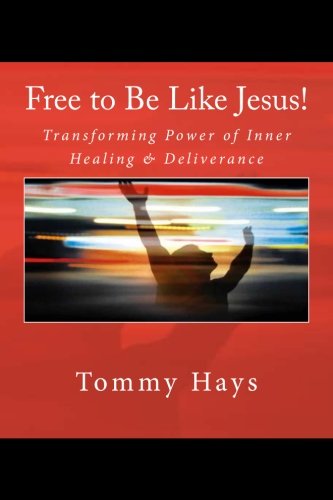 Endorsements for Free to Be Like Jesus
from Trusted Spiritual Leaders
"Tommy Hays has spent a lifetime studying the place of prayer in inner healing. I have personally benefitted from his teaching, writing and encouragement. This book gathers a wealth of helpful insights and experiences into one volume. I am honored to have it on my shelf and honored to call Tommy my friend."
Max Lucado
"Tommy Hays combines a lawyer's keen logic with a spiritual intuition to bring inner healing to a practical, effective and applied level. His proven techniques have been used in hundreds of ministry settings and can serve as simple yet profound tools in the hands of even the novice minister."
Andy Reese
Author of Freedom Tools
"Free to Be Like Jesus
will take you on a journey to learn more about the inner healing ministry. This book has many foundational spiritual truths and will help you if you want more healing in your own life, or if you want more tools to assist you in your inner healing ministry."
Randy Clark
Global Awakening
Keynote Speaker in Shropshire, England for March Conference "Release for the Captives!"
Friends, I'm excited to be invited as Keynote Speaker this year for the European Conference of the Holy Spirit through Aldersgate Renewal Ministries in Shropshire, England in March. The theme this year is "Release for the Captives!" Come join us!
Tommy Hays | Messiah Ministries
Healing from the Inside Out
Pastoral Director | Rapha God Ministries
4 Dominion Drive, Building 1
San Antonio, Texas 78257
Please share this word to encourage a friend!