Morning by Morning, September 29 - Presidential Proclamation of "Return" to God
Good morning, Lord Jesus. I'm listening for Your leading, as I worship and wait, here in the communion of prayer with You -- Father, Son, and Holy Spirit of God. ...

"Turn to Me and be saved, all the ends of the earth! For I Am God, and there is no other!" (Isaiah 45:22)

The spiritual atmosphere over our nation has shifted. On Saturday the Sabbath of September 26, 2020, I believe heaven has recorded in the Book of Life that America turned to God in repentance and prayer.

With the national prayer walk led by Franklin Graham and the national sacred assembly led by Jonathan Cahn, all before the capitol of our nation's seat of government in Washington, I believe You looked to see if there was a remnant who would stand in the gap and call on Your name to turn to You on behalf of our land (Ezekiel 22:30). And we joined in. From homes and churches, from cell phones and laptops, from backyards and living rooms, in our cars and on our knees, all across this land, saying, "Yes. Lord. We hear Your call to repentance and return. We turn to You. We return to You. You are God and there is no other!"

With those who joined with us in our little gathering to pray that morning, we were shocked and stunned at the dramatic smashing of the potter's vessel in shattered pieces across the platform, just as the prophet Jeremiah smashed the potter's vessel before people of Israel speaking of the fate of the nation that refuses to turn to God (Jeremiah 19:10). With convicted and repentant hearts across the nation and around the world, we cried out to You in repentance and prayer that this nation would turn to You, return to You, again in our hearts as a nation under God.

And then, we were just as shocked and stunned to hear Jonathan Cahn return to read from a fax of the Presidential Proclamation just received and to be publicly declared, following this prophetic act on behalf of our nation. From his position and seat of governmental authority, the President of the United States of America issued his "Presidential Message on the National Day of Prayer and Return, 2020" at that moment on September 26, 2020.

It was not just a Proclamation of a National Day of Prayer, but of a National Day of Prayer "and Return." In words which will become known to be historic, expressing humility and faith, repentance and trust on behalf of our nation, the President and First Lady declared they joined "millions of Christians here in the United States and around the world in prayer, as we turn our hearts to our Lord and Savior.... Today, I am pleased to join my voice to yours in thanking God for blessing this nation with great power and responsibility. With reverence, humility and thanksgiving, we beg for His continued guidance and protection."

Those words, spoken from that position of governmental authority, personally and on behalf of our nation, carry untold spiritual significance. No doubt, a Spirit of Revival has been released into the heart of our nation. No doubt, we will see evidence in the days to come of a shifting and changing in hearts and homes, in laws and leaders, in words and actions, and in more than we can imagine across this land. No doubt, the spiritual battles will intensify, the choices and their consequences will become more clear, and the fruit and move of God will become more dramatic among us. For "Blessed is the nation whose God is the Lord" (Psalm 33:12).

Come, Holy Spirit! Breathe new life into these dry bones of our nation to arise and return to become and fulfill all You've desired to do in us and through us as a nation under God! (Ezekiel 37:1-14) "Sleeper, awake! Rise from the dead, and Christ will shine on you!" (Ephesians 5:14)

This revival, this awakening at hand, is the move of Your Spirit moving in our hearts to turn our hearts completely to You. This revival and awakening is Your power at work within us to restore us to righteousness, to pursue Your holiness, to trust in You alone as the Lord our God. And all by the power of Your grace, we will be that light to the nations and that city on a hill we've been called to be and prophesied to be for such a time as this! In Jesus' name I pray. Amen.


Be encouraged today! In the Love of Jesus, Tommy Hays



My friend,
m
ay you stirred up in your spirit, filled afresh with the Holy Spirit, as you continue to pray for and expect and witness the great awakening and revival in our land and in the earth, pressing through the spiritual opposition and on to the victory and great harvest we have in Jesus,
in Jesus name.
Please pray the same for me.
God bless you, my friend!
Praise Report from Preaching in Pakistan Monday
though our Skype Internet Ministry!
Friends, I'm excited to share this praise report I just received from Pastor Rizwan Fazal after our outdoor evangelistic meeting in a new village for our outreach in Pakistan last night: "Thanks very much to share Word of God with people of Pakistan in Kot Radha Kishan Village. Thanks Lord 406 Souls are Saved and 32 Persons are Healed from different things!" Praise God!
Thank you so much for all your prayers, encouragement, and support for us to be able to hold these monthly evangelistic outreach meetings through our Internet Ministry into Pakistan. Each month, I am preaching in different villages around Lahore, Pakistan in the Punjab Region through Skype in these outdoor evangelistic meetings. Leading our local team, Pastor Rizwan Fazal sets up a big screen in an outdoor meeting usually and interprets my message of hope and healing live in Pakistan. Then we follow up with prayer and discipleship through our partnership of ministry with Pastor Fazal and his wife. We're excited to see what God is doing in these days of revival in Pakistan!
"And the Good News about the Kingdom will be preached throughout the whole world, so that all nations will hear it; and then the end will come!"
(Matthew 24:14)
Please come join us
if you can and keep us in prayer if you can't for this exciting opportunity of ministry:
An Evening of Worship, Encouragement, and Ministry
October 1, 2020 at the Kendall Inn in Boerne, Texas Sponsored by Aglow International
Free to Be Like Jesus!
Transforming Power of Inner Healing & Deliverance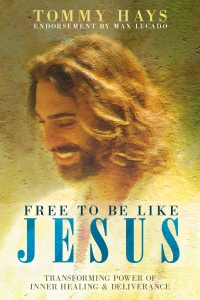 New Mailing Address for Messiah Ministries:
17503 La Cantera Parkway,
Suite 104407
Tommy & Rocio Hays | Messiah Ministries
Please share this word to encourage a friend!