Morning by Morning, September 15 - My Savior and Source of All I Need
Good morning, Lord Jesus. My Lord and Savior -- and all that means through every moment of my day. ...

My Voice when I can't speak,

My Rock when I can't stand,

My Rope when I'm in deep,

My Sail when I can't move,

My Shield when I can't duck,

My Friend when I'm alone,

My God when no one else and nothing less could ever be.

You're my All in All when I'm all out of all my options and I'm all done with trying to do it all myself in my own way (Colossians 3:11).

You're all I ever need. And You're always here with me (Matthew 28:20; Hebrews 13:5-6).

I hear You saying in my heart, "Look to no one but Me. Seek no Source but Me. I provide and I supply through many means, but I am the Source of all You need. Trust and see that I am worthy of your trust and a rewarder of those who seek Me." ...

Yes, Lord. As I ponder Your words, this Word comes to mind: "Without faith it is impossible to please God, for whoever would approach Him must believe that He exists and that He rewards those who seek Him" (Hebrews 11:6).

For my nation that seems so out of control, I seek You. For my needs that seem out of my hands, I seek You. For the deepest longing of my soul, for the farthest reaches of my dreams, for all that I need and I all that I am and all that I'm created and called to be, I seek You. ...

And as I seek You, I find strength and courage and peace in the Promise of Your Word: "For surely I know the plans I have for you, says the Lord, plans for your welfare and not for harm, to give you a future with hope. Then when you call upon Me and come and pray to Me, I will hear you. When you search for Me, you will find Me; if you seek Me with all your heart, I will let you find Me, says the Lord..." (Jeremiah 29:11-13). There's restoration and redemption, forgiveness and mercy, faithfulness and fulfillment for all who humble themselves to call on Your name, to seek Your face, and embrace Your grace (Jeremiah 29:14).

For me and my house, for my nation and my world, as far as Your grace will go, I turn to You and trust in You as the only true Source of all we need. You alone are God and there is no other (Isaiah 45:5). "There is salvation in no one else, for there is no other name under heaven given among men by which we must be saved" (Acts 4:12). You are my Savior and my Salvation, my Source of all I need and all that means -- here in my heart and every moment of my day and for every struggling soul here in my world. In Jesus' name I pray. Amen.


Be encouraged today! In the Love of Jesus, Tommy Hays



My friend,
m
ay you trust in the One who is your Savior and Source of all you need and the rewarder of all who seek Him,
in Jesus name.
Please pray the same for me.
God bless you, my friend!
Healing Academy Tonight.
Friends, please keep us in prayer as Rocio and I travel to Fredericksburg tonight to continue teaching our Healing Academy at the Bridge Church. Praying for anointed teaching and equipping, but also powerful encounters with the Holy Spirit! I pray those encounters for you!
I'll be teaching from the Biblical Principles of my book: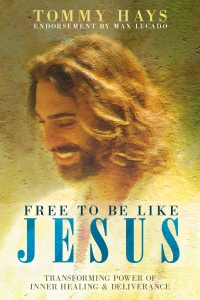 New Mailing Address for Messiah Ministries:
17503 La Cantera Parkway,
Suite 104407
Tommy & Rocio Hays | Messiah Ministries
Please share this word to encourage a friend!