Morning by Morning, September 16 - Nothing But Jesus...
Good morning, Lord Jesus. I'm listening for Your leading, to begin my day embraced by my Father, centered in Christ, and filled with the Holy Spirit. ...

More than I've ever known.

Beyond where I've ever gone.

Allowing nothing to hold me back.

No conformity to the controlling culture of these times.

No compromise with the corruption of this world.

Nothing but Jesus abiding in me,

And my life abounding in Him.

"Who the Son sets free is free indeed!" (John 8:36) "It is for freedom that Christ has set (me) free" -- free to follow You, free to surrender my life completely to You and become more like You, more every day -- step by step, morning by morning, day by day (Galatians 5:1). Free to be like Jesus (Romans 8:29; 1 John 4:17). "Beloved, we are God's children now; what we will be has not yet been revealed. What we do know is this: when He is revealed, we will be like Him, for we will see Him as He is" (1 John 3:2).

Nothing but Jesus abiding in me,

And my life abounding in Him.

"When Christ who is (my) life is reveled, then (I) also will be revealed with Him in glory.... And whatever (I) do, in word or in deed, (I) do everything in the name of the Lord Jesus, giving thanks to God the Father through Him" (Colossians 3:4-17).

I want nothing more. I'll settle for nothing less.

Nothing but Jesus abiding in me,

and my life abounding in Him.

In Jesus' name I pray. Amen.


Be encouraged today! In the Love of Jesus, Tommy Hays



My friend,
m
ay you be free to be like Jesus -- nothing but Jesus abiding in you and your life abounding in Him,
in Jesus name.
Please pray the same for me.
God bless you, my friend!
Healing Academy.
Friends, thank you so much for your prayers for us at our Healing Academy in Fredericksburg, Texas last night at the Bridge Church. Every week, we're experiencing more healing and freedom in the deep presence of the Lord, as His Holy Spirit equips us for ministering the healing love of God in spirit, soul, and body. I pray the same for you!
I'm teaching from the Biblical Principles of my book:
Free to Be Like Jesus!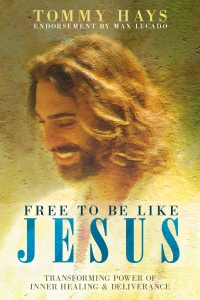 New Mailing Address for Messiah Ministries:
17503 La Cantera Parkway,
Suite 104407
Tommy & Rocio Hays | Messiah Ministries
Please share this word to encourage a friend!