Morning by Morning, January 5 - Give Voice and Vote for Righteousness
Good morning, Lord Jesus. Put Your thoughts in my mind and Your desires in my heart to guide my steps this day -- Father, Son, and Holy Spirit of God. ...
"Rejoice in the Lord, O you righteous!
For praise from the upright is beautiful....
For the word of the Lord is right,
And all His work is done in truth.
He loves righteousness and justice....
By the word of the Lord the heavens were made,
And the host of them by the breath of His mouth....
Let all the earth fear the Lord;
Let all the inhabitants of the world stand in awe of Him.
For He spoke, and it was done;
He commanded, and it stood fast.
The Lord brings the counsel of nations to nothing;
He makes the plans of the people to no effect.
The counsel of the Lord stands forever,
The plans of His heart to all generations.
Blessed is the nation whose God is the Lord,
The people He has chosen as His own inheritance....
No king is saved by the multitude of an army;
A mighty man is not delivered by great strength.
A horse is a vain hope for safety;
Neither shall it deliver any by its great strength.
Behold the eye of the Lord is on those who fear Him,
On those who hope in His mercy....
Our soul waits for the Lord;
He is our Help and our Shield!
For our heart shall rejoice in Him,
Because we have trusted in His holy name!
Let Your mercy, O Lord, be upon us,
Just as we hope in You!" (Psalm 33:1-22)
Many of the citizens of our nation will speak their voice and cast their votes in the State of Georgia today. Many already have. And I join in the prayer of agreement that the voices of righteousness will be heard and the votes for righteousness will be counted.
I join in prayer and proclamation, with a decree of righteousness and justice over our land in the name of Jesus. Let life and liberty, freedom and justice in what is right and true according to Your Word be affirmed. Let principles grounded in Your Word and guided by submission to Your authority in the fear of the Lord be defended in the government of our nation. "Blessed is the nation whose God is the Lord!" (v. 12)
O Lord, our Father, look from heaven (v. 13) See the heart of a nation crying out to You, calling upon Your name, desperately depending upon You alone as our Salvation and Hope (v. 18) We don't put our trust or our hopes in horses or chariots, nor the plans of people or the counsel of nations -- we put our trust and our hope in You! (v. 16)
O Lord, send forth Your Word! Send forth Your Spirit! Send forth Your hosts of heaven! (v. 6) Speak, and it shall be done! Command, and it shall come to pass! (v. 9)
And now we trust that You are our Help and our Shield, because we have trusted in Your holy name (v. 20) This day, and every day throughout this continuing battle for the soul of this nation as a nation under God, "Let Your mercy, O Lord, be upon us, just as we hope in You!" (v. 22) In Jesus' name I pray. Amen.
Be encouraged today! In the Love of Jesus,
Tommy Hays
My friend, may you be guided by the Holy Spirit and authority of God's Word, in the fear of the Lord and trusting in the power of His name in your prayers and proclamations, in your attitude and actions in all things, in
Jesus name. Please pray the same for me. And I continue to join with you in prayer for our nation through these challenging times. God bless you, my friend!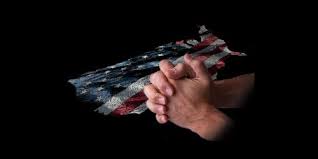 God bless you as you pray for America today!
Mailing Address for Messiah Ministries:
17503 La Cantera Parkway,
Suite 104407
Please share this word to encourage a friend!
Anyone can sign up for free to receive them at: