Morning by Morning, February 21 - Freedom in the Spirit

Good morning, Lord Jesus. Be at the center of my heart and the foundation of my day. ...

"Now the Lord is the Spirit, and where the Spirit of the Lord is, there is freedom" (2 Corinthians 3:17).

Come, Holy Spirit. Come set me free -- free from my flesh that resists Your leading and the Lordship of Christ in every area of my life; free from compromise with the ways of the world that are contrary to the ways of the Spirit; free from everything that would hold me back from being all my Father created me to be. Come set me free to be more like Jesus this day and every day (Romans 8:29; 1 John 4:17).

"(I) have not received the spirit of the world, but the Spirit that is from God" (1 Corinthians 2:12). Purify me in Your holy fire. Sanctify me in Your Holy Spirit. Burn out of me the branches that bear bad fruit and fail to bear the fruit that glorifies Your name through my life (Matthew 3:10). "For (You are) like a refiner's fire and like fullers' soap; (You) will sit as a refiner and purifier of silver, and (You) will purify (Your) descendants and refine (us) like gold and silver, until (we) present offerings to the Lord in righteousness" (Malachi 3:2-3).

Give me courage to embrace Your flame. Set me ablaze with a passion for You and Your will for my life. "For indeed our God is a consuming fire" (Hebrews 12:29). Come, Holy Spirit. Come, burn in me today. Where the Spirit of the Lord is, there is freedom! In Jesus' name I pray. Amen.

Be encouraged today! In the Love of Jesus, Tommy Hays
I pray you will be set free from everything that holds you back from being all our Father created you to be in the power and fire of His Holy Spirit,
in Jesus' name. Please pray the same for me.
God bless you, my friend!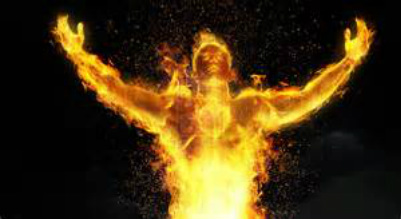 Tommy Hays | Messiah Ministries
Healing from the Inside Out
Pastoral Director | Rapha God Ministries
4 Dominion Drive, Building 1
San Antonio, Texas 78257
Please share this word to encourage a friend!