Morning by Morning, November 3 - "The Valley of Decision" on Election Day
Good morning, Lord Jesus. Be Lord of my heart and all my desires, Lord of my mind and all my thoughts, Lord of my will and all my choices. ...

"Multitudes, multitudes,
in the valley of decision!
For the day of the Lord is near
in the valley of decision.
The sun and the moon are darkened,
and the stars withdraw their shining.

The Lord roars from Zion,
and utters His voice from Jerusalem,
and the heavens and the earth shake.
But the Lord is a refuge for His people,
a stronghold for the people of Israel.

So you shall know that I, the Lord your God,
dwell in Zion, my holy mountain.
And Jerusalem shall be holy,
and strangers shall never again pass through it.

In that day
the mountains shall drip sweet wine,
the hills shall flow with milk,
and all the stream beds of Judah
shall flow with water;
a fountain shall come forth from the house of the Lord
and water the Wadi Shittim" (Joel 3:14-18).

Today is Election Day in America. Multitudes will go down to "the valley of decision" to cast their vote and speak their voice and make their choice. Multitudes already have.

Come, Holy Spirit. May the decisions of the multitudes be decisions led by Your Spirit, informed by Your Word, guided by Your principles of the Kingdom of God and the authority of Your Scripture. May they be decisions for life and not death, for blessing and not cursing, exalting Your ways in our land as one nation under God.

"Righteousness exalts a nation, but sin is a reproach to any people" (Proverbs 14:34). "Righteousness and justice are the foundation of Your throne" (Psalm 89:14). And "Blessed is the nation whose God is the Lord" (Psalm 33:12).

If our choices are right and our decisions are true, the mountains and hills, the streams and plains, will flow with the blessings of God. "A fountain shall come forth!"

Lord, let Your Fountain of Living Water come forth in our land. Let there be revival, awakening, and harvest as never before, as the heart of our nation continues to return to You. Move in Your power. Move by Your grace.

Against all odds, move in impossible and mighty ways that only You can do, so that all will see and know that only You have done this. For "Nothing is impossible with God" (Luke 1:37) and "With God all things are possible" (Matthew 19:26). On this day of decision, may Your multitudes remember as we pray in faith for our land that "All things are possible for those who believe" (Mark 9:23). And no matter what has happened at the close of this day and through the days to come, "We know that all things work together for good for those who love (You), who are called according to Your purpose" (Romans 8:28). In Jesus' name I pray. Amen.




Be encouraged today! In the Love of Jesus, Tommy Hays




My friend, may

you make your decisions this day and every day led by the Holy Spirit, informed by God's Word, guided by His principles and the authority of His Scripture, receiving an overflowing fountain of God's blessings in your life,

in Jesus name.

Please pray the same for me.

And I join with you and so many in fasting and prayer for the elections and for all we're facing in our world.

God bless you, my friend!



Praise Report from Preaching in Pakistan through our Skype Internet Ministry.
We're praising God for another move of the Holy Spirt in Pakistan with the Power and Love of Jesus Christ! Our ministry partner there Pastor Rizwan Fazal reports over 320 salvations and many reports of healing and freedom in Jesus' name!
Thank you so much for all your prayers, my friends! We're honored and excited to be part of what the Lord is doing in these thrilling days of global harvest! Each month, we try to preach in a different village through our live stream Skype Ministry, where Pastor Fazal sets up a big screen and projector and interprets my message live, with followup ministry. Please keep us in prayer for open doors for our next crusade next month! God bless you!
"And the Good News about the Kingdom will be preached throughout the whole world, so that all nations will hear it; and then the end will come!" (Matthew 24:14)
Healing Academy in Fredericksburg at the Bridge Church Tonight.
Please keep us in prayer, as Rocio and I travel to Fredericksburg, expectant and excited for another great evening of healing worship, teaching and impartation. Every week gets better! Praying the Holy Spirit will connect you in those places He has for you to be filled up and overflowing! The Healing Academy teaching is based on my Book Free to Be Like Jesus -- Transforming Power of Inner Healing & Deliverance.
My friend,
please l
et me know if your church or group would like to discuss arranging an
Intensive Version of our Healing Academy
in Your community. Just reply to this email
I'm excited to be joining by Zoom call with Pastor Jeff Bealmear at the Olney Methodist Church in Illinois, as they teach the Free to Be Like Jesus material. I'll be up there with them in person in December. Please keep us in prayer!
Free to Be Like Jesus!
Transforming Power of Inner Healing & Deliverance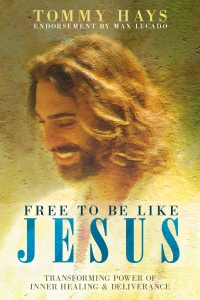 New Mailing Address for Messiah Ministries:
17503 La Cantera Parkway,
Suite 104407
Tommy & Rocio Hays | Messiah Ministries
Please share this word to encourage a friend!