Morning by Morning, October 7 - I Will Sing in My Spirit of God's Unfailing Love
Good morning, Lord Jesus. I welcome You into my heart and every moment of my day. ...

"But as for me, I will sing about Your power. Each morning I will sing with joy about Your unfailing love. For You have been my refuge, a place of safety when I am in distress" (Psalms

59:16

NLT

).

Thank You for waking me almost every morning with a song in my spirit. It's Your Spirit singing in my spirit, just as Your Word invites us to do. "I will sing in the Spirit" (1 Corinthians 14:15).

And I sing with joy of Your unfailing love. I sing with joy to the One who is my Refuge and my Place of Safety -- to the One who rescues me from distress, who delivers me from evil, who heals me from hurt, who comforts me with care, who leads me in the path of life in You.

As for me, I will sing about Your power. I will sing about Your love. I will sing about who You are and all You do.

No matter what I may go through or what may try to go through me or run over me or try to hold me back or shut me down or shut me up, I will sing and I will praise, full of joy for Your unfailing love! They can't take that from me. They can't put a mask over that. They can't distance me from the One who created me and calls me by name to wake up every morning with Your joy in my spirit because You've poured Your unfailing love into my heart! "I will sing of the Lord's unfailing love forever!" (Psalm 89:1) In Jesus name I pray. Amen.


Be encouraged today! In the Love of Jesus, Tommy Hays



My Friend,
m
ay you be filled with the Holy Spirit of the Living God and wake up every morning singing of His unfailing love,
in Jesus name.
Please pray the same for me.
God bless you, my friend!
Healing Academy in Fredericksburg at the Bridge Church. Thank you so much for
keeping us in prayer! Rocio and I loved another great evening of healing worship, get to teach and impart what the Lord has given us in Fredericksburg last night. Every week gets better! Praying the Holy Spirit will connect you in those places He has for you to be filled up and overflowing! The Healing Academy teaching is based on my Book Free to Be Like Jesus -- Transforming Power of Inner Healing & Deliverance.
Friends, let me know if your church or group would like to discuss arranging an Intensive Version of our Healing Academy in Your community. Just reply to this email.

Tonight, October 7th at 7PM, I'm excited to be preaching a word at "The Glory Tent" set up for citywide revival meetings outside The King's Mission Fellowship on the Southside of San Antonio. My wife Rocio will be interpreting the message in Spanish. Each night a different preacher is continuing these revival messages for revival in our city. Come join us if you and pray for us if you can't!
610 Moursund Blvd; San Antonio, TX
Free to Be Like Jesus!
Transforming Power of Inner Healing & Deliverance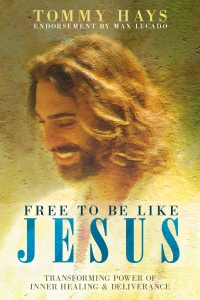 New Mailing Address for Messiah Ministries:
17503 La Cantera Parkway,
Suite 104407
Tommy & Rocio Hays | Messiah Ministries
Please share this word to encourage a friend!