Morning by Morning, October 16 - Lifted Up!
Good morning, Lord Jesus. Make me more like You today. ...

"The Spirit lifted me up, and brought me into the inner court; and the glory of the Lord filled the temple" (Ezekiel 43:5).

Come, Holy Spirit of the Living God. Come lift me up into the inner court, into the intimate place of Your Presence in deep communion with You -- Father, Son, and Holy Spirit. Let the glory of Your Manifest Presence fill this temple of my heart, to begin my day lifted up in Your embrace.

When my kids were young, one of their favorite things was to stop over and stay in a motel along the way of our journeys. The best part was the swimming pool. They loved for me to shoot them up into the air, out of the water, as high as I could throw them. They would say over and over again, "Do it again, Dad! Shoot me up like a rocket!" We'd do that forever it seemed, at least until Mission Control at Houston got worn out from launching those rockets.

And I was thinking this morning how You're a Father who loves to lift us up and launch us high into all You have for us. You love to hear us giggle with delight at the thrill of the adventure. You love to give us the desires of heart whenever You can, maybe even just to see the smile on our faces and hear the joy in our voices, excited for You to do it again and again and again. And You're a Daddy, a good, good Father -- our Abba Father -- who never wears out and never gets tired of giving good gifts to Your children (Romans 8:15; Matthew 7:11).

My Father, You lift me up. You shoot me high into the sky, like a rocket. You have in Your heart to do exceedingly, abundantly far more than I can even ask or imagine (Ephesians 3:20). "Eye has not seen, nor ear heard, nor have entered into the heart of man the things which God has prepared for those who love Him!" (1 Corinthians 2:9) Do it again, Daddy Abba, my Father God! Shoot me up like a rocket today! In Jesus' name I pray. Amen.

Be encouraged today! In the Love of Jesus, Tommy Hays



My friend, m
ay you be lifted up and launched high in the adventure our Father has for you today, even giggling with delight in the thrill of the adventure no matter what you face,
in Jesus name.
Please pray the same for me.
God bless you, my friend!
Ministry in Kentucky Next Week! Come join us if you are in the Lexington, Kentucky area the weekend of October 23-24thwhere I'll speaking at our Setting Hearts Free conference at Ignite Church in Nicholasville just west of Lexington.


All are welcome! Spread the word!
Free to Be Like Jesus!
Transforming Power of Inner Healing & Deliverance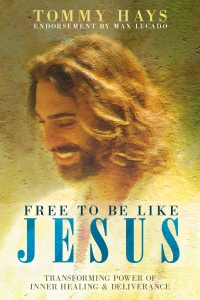 New Mailing Address for Messiah Ministries:
17503 La Cantera Parkway,
Suite 104407
Tommy & Rocio Hays | Messiah Ministries
Please share this word to encourage a friend!