Morning by Morning, October 15 - The Beauty of His Holiness and Intimacy of His Presence
Good morning, Lord Jesus. I lift up my eyes and open up my heart to enter into deep communion with You, here in these first moments of my morning -- Father, Son, and Holy Spirit of God. ...

"Oh, worship the Lord in the beauty of holiness! Tremble before Him, all the earth!" (Psalm 96:9)

Having dinner with friends, we found ourselves talking about the Lord and all You're goodness and mercy through different challenges of each of our lives. We began to speak of intimacy with You and suddenly You were there, intimately with us. In waves of words in Your Spirit with waves of words of interpretation and understanding, we experienced a deeply intimate visitation with You. One being deeply moved kept quietly, lovingly speaking, "You're so beautiful. You're so beautiful. You're so beautiful...."

O Lord, You are so beautiful. And in the beauty of Your mercy and love, You love to draw near to us as we seek to draw near to You (James 4:8). As we open up our hearts to You, You pour Your love into our hearts by Your Spirt. "Hope does not disappoint us, because the love of God has been poured out in our hearts by the Holy Spirit who has been given to us" (Romans 5:5).

As I open up my heart to Your Spirit this morning, it seems I hear You speaking in my heart: "My son, as you behold the beauty of My holiness and seek to pursue the intimacy of My love, what is beautiful to Me is the heart of one who wholly surrenders your heart to Me. The more deeply you surrender, the more intimately you'll experience the depths of My love -- My love for you and for every one of My children. Each one of you, in that moment of surrender and trust and love, will know you are Mine and I am yours." ...

As I ponder and discern what I believe I hear as Your word in my heart, this Word of Your Scripture comes to mind: "My beloved is mine and I am his" (Song of Solomon 2:16). ...

Yes, Lord. As best as I can and all by Your grace, I welcome Your Spirit into my heart and every moment of my day. Even as I arise and go about my day, may my spirit never leave this place of deep intimacy with Your Spirit -- spirit to Spirit, heart to Heart, deep to Deep. Help me keep trusting even more, surrendering even more, experiencing the intimacy of Your love and the beauty of Your holiness even more. In Jesus' name I pray. Amen.

Be encouraged today! In the Love of Jesus, Tommy Hays



My friend,
m
ay you be drawn into an ever deeper place of intimacy with the Lord in the beauty of His holiness and extravagance of His love,
in Jesus name.
Please pray the same for me.
God bless you, my friend!
Save the Date! Come join us if you are in the Lexington, Kentucky area the weekend of October 23-24th where I'll speaking at our Setting Hearts Free conference at Ignite Church in Nicholasville just west of Lexington.


All are welcome! Spread the word!
Healing Academy in Fredericksburg at the Bridge Church. Please Thank you for your prayers! We're praising God for another powerful night, as we experienced great deliverance and freedom in the powerful name of Jesus! Every week gets better! Praying the Holy Spirit will connect you in those places He has for you to be filled up and overflowing! The Healing Academy teaching is based on my Book Free to Be Like Jesus -- Transforming Power of Inner Healing & Deliverance.
Friends, let me know if your church or group would like to discuss arranging an Intensive Version of our Healing Academy in Your community. Just reply to this email.
Free to Be Like Jesus!
Transforming Power of Inner Healing & Deliverance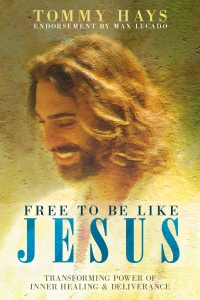 New Mailing Address for Messiah Ministries:
17503 La Cantera Parkway,
Suite 104407
Tommy & Rocio Hays | Messiah Ministries
Please share this word to encourage a friend!