Morning by Morning, October 13 - Mighty Warrior Who Contends for Me
Good morning, Lord Jesus. King of Kings and Lord of Lords, come rule and reign in my heart and every moment of my day. ...

"For thus says the Lord: 'Even the captives of the mighty shall be taken, and the prey of the tyrant be rescued, for I will contend with those who contend with you, and I will save your children!'" (Isaiah 49:25)

There are battles being fought in the spiritual realm all around all the time. Battles for my health and hope, for my faith and finances, for my security and sense of peace, for my children and their children and their children and their children. But mighty are You, Lord! And powerful is Your name!

Though the battles are intense and the spiritual war is real, the victory was already won the very moment I welcomed You into my heart! You're my Mighty Warrior. You're my Dread Champion! You're the Mighty and Victorious One who contends with those who contend with me, who overcomes all that would try to overwhelm me!

"The Lord is a Warrior; the Lord is His name!" (Exodus 15:3)

"The Lord will go forth like a warrior,

He will arouse His zeal like a man of war.

He will utter a shout, yes, He will raise a war cry.

He will prevail against His enemies!" (Isaiah 42:13)

"The Lord is with me like a dread champion;

Therefore my persecutors will stumble and not prevail.

They will be utterly ashamed, because they have failed,

With an everlasting disgrace that will not be forgotten!" (Jeremiah 20:11)

"The Lord (my) God is in (my) midst,

He will exult over (me) with joy,

He will quiet me in His love,

He will rejoice over (me) with shouts of joy!" (Zephaniah 3:17)

Mighty Warrior, I trust in You, knowing You're contending with those who contend with me, knowing that victory is mine because You've already prevailed through the power of Your blood and the victory of Your cross! "Having disarmed the powers and authorities, (You) made a public spectacle of them, triumphing over them by the cross!" (Colossians 2:15)

Now I have victory in You in every battle I face. Let Your victory and my faith live loud in me today! "For everyone who has been born of God overcomes the world. And this is the victory that has overcome the world -- our faith. Who is it that overcomes the world except the one who believes that Jesus is the Son of God. This is He who came by water and blood -- Jesus Christ!" (1 John 5:4-6) In Jesus' name I pray. Amen.


Be encouraged today! In the Love of Jesus, Tommy Hays



My friend,
m
ay your faith live loud in you today, knowing the victory is won is Jesus Christ,
in Jesus name.
Please pray the same for me.
God bless you, my friend!
Save the Date! Come join us if you are in the Lexington, Kentucky area the weekend of October 23-24th where I'll be preaching our Setting Hearts Free conference at Ignite Church in Nicholasville just west of Lexington.

All are welcome! Spread the word!
Healing Academy in Fredericksburg at the Bridge Church Tonight.
Please keep us in prayer, as Rocio and I travel to Fredericksburg, expectant and excited for another great evening of healing worship, teaching and impartation. Every week gets better! Praying the Holy Spirit will connect you in those places He has for you to be filled up and overflowing! The Healing Academy teaching is based on my Book Free to Be Like Jesus -- Transforming Power of Inner Healing & Deliverance.
Friends,
let me know if your church or group would like to discuss arranging an Intensive Version of our Healing Academy in Your community. Just reply to this email.
Free to Be Like Jesus!
Transforming Power of Inner Healing & Deliverance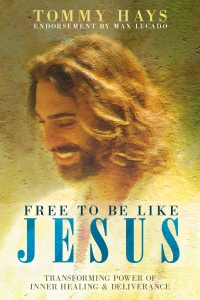 New Mailing Address for Messiah Ministries:
17503 La Cantera Parkway,
Suite 104407
Tommy & Rocio Hays | Messiah Ministries
Please share this word to encourage a friend!