Morning by Morning, October 5 - "Let Us Worship!"
Good morning, Lord Jesus. Your name be lifted high -- here in my heart and here in my world. Yours is the name above every name (Philippians 2:9). ...

O come, let us worship and bow down,
let us kneel before the Lord, our Maker!

For He is our God,
and we are the people of His pasture,
and the sheep of His hand.

O that today you would listen to His voice!" (Psalm 95:6-7)




Last night we joined thousands to worship Jesus at the Let Us Worship gathering led by Sean Feucht at the giant Empty Cross that stands high on the hill above Kerrville, Texas. At the start of the meeting, a leader from California declared, "I know everything's bigger in Texas, but that is the biggest cross I've ever seen in my life! There's One who is worthy of our biggest praise!"

You are worthy of our praise! Your name is worthy to be high and lifted up, in our hearts and across our land!

We lifted our praise and shouted our hallelujahs and sounded our shofars, as the hills of the Texas Hill Country sang out the praises of our God!

Sean is the young worship leader who courageously goes into the midst of all the hotspot cities and places of riots and violence armed only with the spiritual weapons of worship and love in the power of the name of Jesus. And hundreds are saved, healed, and set free in the atmosphere of worship and praise. Last night was yet another gathering of those hungering and thirsting and yearning for spiritual revival and great awakening across our land for the great harvest at hand!

It was my honor and joy to baptize two young women who gave their hearts to Jesus there in the fountain in front of the giant cross. Hundreds of others plunged under the living waters to arise into newness of life with shouts of joy as the angels of heaven cheered on! And under the radiant sunset across the skies, the unusual breeze of the Holy Spirit continued to blow across the land!

"O come, let us worship and bow down,
let us kneel before the Lord, our Maker!"

As we bow down, as we lift our praise up, as we worship the Lord, our Maker, You are making things right in our hearts and in our land. Though the spiritual battles intensify in our days, so does our praise! Though the darkness grows darker, so does the Light shine even brighter!

We will not back down. We will not back off. We will worship and praise our God to see the breakthrough of revival across this land! "Let us worship!" In Jesus' name I pray. Amen.


Be encouraged today! In the Love of Jesus, Tommy Hays



My friend,
m
ay you be free in your worship of the One who is worthy of our biggest praise,
in Jesus name.
Please pray the same for me.
God bless you, my friend!
Next Wednesday, October 7th at 7PM, I'm excited to be preaching a word at "The Glory Tent" set up for citywide revival meetings outside The King's Mission Fellowship on the Southside of San Antonio. My wife Rocio will be interpreting our message in Spanish. Come join us if you and pray for us if you can't!
610 Moursund Blvd; San Antonio, TX
Free to Be Like Jesus!
Transforming Power of Inner Healing & Deliverance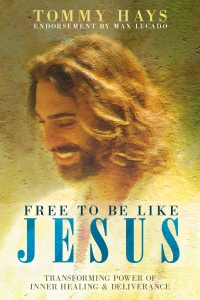 New Mailing Address for Messiah Ministries:
17503 La Cantera Parkway,
Suite 104407
Tommy & Rocio Hays | Messiah Ministries
Please share this word to encourage a friend!